I found out about a simply wonderful initiative, Lift: Authors Raising Autism Awareness, just a tad too late to participate, but when I reached out to Ginger Scott, one of the organizers, she immediately responded with information so I can be part of this in at least a small way! What is it? It's a wonderful group of authors who answered Ginger and Kennedy Ryan's call for a way to raise autism awareness. Click through on the authors, follow them, support them, enter the giveaway … make a difference.
This hits close to home for me, because my youngest son has autism. Now 21, he wasn't diagnosed until he was 11, which made it too late for any early intervention techniques or modalities. This meant he has had to work harder at everything. Well, you know me, I'm not afraid of a little work, so between me and the boychild, we buckled down and muscled through all the challenges. Because of the profound impact autism has had on our lives, I look for ways to support others who are in the midst of the fight. The group of authors you'll read about below is doing the same, and I'm proud of each of them.
My life with my son has been a rollercoaster at times, and I'm happy to report that right now … life is guud!
But, it wasn't always that way. Along our path things were sometimes very challenging, and it isn't always easy to find support, especially when people don't understand the issues the person with autism faces, or the struggles that the family members deal with when someone you love has autism. I was an early adopter of social media and found a supportive community online, many of whom were going through similar issues and situations, and who used blogs to vent. When we couldn't talk to family or friends, we could vent. Just opening the relief valve a smidge was enough to give relief some days. I blogged for about four years, it looks like. The months with the most posts are the ones that were the toughest to live through, and I brought myself to tears a couple weeks ago re-reading some of them because I remembered far too clearly how hopeless and helpless I felt in those moments. But we keep going, right? That's what parents do, we just keep going and keep helping and pushing … trusting that things will come out right in the end, because our kids matter so much.
In Bear, I wrote about a character who had chosen special needs as a career. Eddie is an autism itinerant, a dedicated lady who worked with kids with varying impacts from autism and we got to meet Rafe, a rule-bound young man with autism. In Gunny, you'll meet another special needs kid who is a little more profoundly affected. Why? Because parents like me exist, and we need to have validation in our lives that people "get it."
My son still lives with me, and at this point it's unsure if he'll ever be able to live on his own, but I'm hopeful. I also do special needs foster respite care, giving a few moments of unencumbered relief for folks who knowingly and willingly take on the challenges that these kiddos bring to the table, in an effort to make lives better.
So if you are so inclined, and want to wallow in my long-past misery, here's a link:
http://lillihanoj.com/autblog/
Now on to the main event, Lift: Authors Raising Autism Awareness

Week 3 of LIFT doesn't let up! We have such incredible donations from amazing authors this week.
If you missed the LIFT t-shirts, there's still a chance! Reserve yours in our "round two" LIFT order today! Don't be left out when we have LIFT selfie day!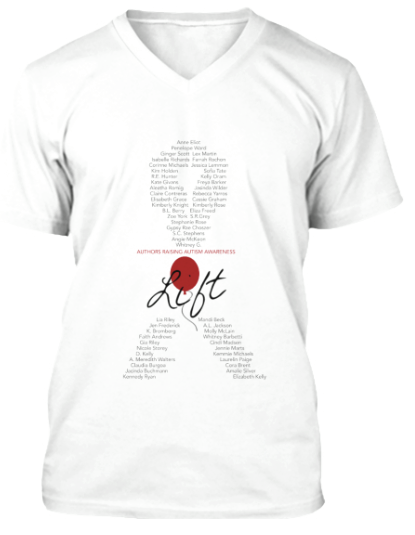 This week's MegaGiveaway benefits The Autism Spectrum Disorder Foundation.
Thank you to the generous authors donating!
---
Go forth, support, offer some love to these wonderful people!
Muuwah! <3
Every single day, you make my life better.
~ML