Meet M.L. deMora

Raised in the south, MariaLisa learned about the magic of books at an early age. Every summer, she would spend hours in the local library, devouring books of every genre. Self-described as a book-a-holic, she says "I've always loved to read, but then I discovered writing, and found I adored that, too. For reading … if nothing else is available, I've been known to read the back of the cereal box."
Oatmeal is her comfort food. She hates gardening but loves flowers; not cut arrangements, but growing in the wild, outside. She has a deep and abiding respect for our military. Her dad was career Air Force, and flew during the Cuban Missile Crisis, Korean Conflict, and Vietnam War. Parades make her cry. Walking Dead is about the only TV she watches anymore, don't bother her on Walking Dead night, when she's been known to shout, "Go Team Darryl!" Yes, she's still sad about Firefly.
She's a hockey fan, like … a serious hockey fan. She's loyal to the Edmonton Oilers, but asks that we don't judge her about that. She also likes the Nashville Predators and Ottawa Senators. The local ECHL team, the Fort Wayne Komets, are a fav of hers, and she has season tickets. She'll also generally try to hit the road games within a hundred-mile radius.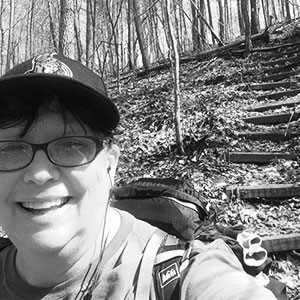 She's a wanna-be hiker, working on a "bucket list" of hikes like Knobstone; completed in four days mid-April 2014 – whoooo! On that list is the Appalachian Trail, and she started a section hike beginning with the first 51 miles in Georgia, May 2014, launching from the southern terminus on Springer Mountain. Now and then she looks west towards the PCT but says that's a level of difficult she's not yet ready to tackle. Here's a link to her trail journal.
She embraces her inner geek, working in the tech field for a publishing company for a couple decades. A sometime PC gamer, she still plays EverQuest after all these years. She says, "What can I say, I'm loyal (see above, I'm an Oilers fan). My oldest character there is more than fifteen years old, I can't abandon her now! Yeah, I play a little WoW, and have a coupla toons there, too."
On music, she says, "I love music of nearly any genre — jazz, country, rock, alt rock, metal, classical, bluegrass, rap, hip hop … you name it, I listen to it. I can often be seen dancing through the house in the early mornings. But I really, REALLY love live music. My favorite thing with music is seeing bands in small, dive bars [read: small, intimate venues]. If said bar [venue] has a good selection of premium tequila, then that's a plus!"
Her short bio reads, "Plate-spinner / cat herder at work; totally geeked author; avid reader; single mom in the thick of autism at home; hockey freak; motorcycle momma; wanna-be hiker; usta-be/on-again EQ gamer."