Well, here we are. Thirty days from the release date for Jase, book #4 in the Rebel Wayfarers MC book series. I'm busily preparing and formatting the document for the print on demand service, so I can get a printed proof ordered and delivered in time for the launch, as well as getting the electronic file ready for upload so you all can do some pre-ordering. Yes, I've been listening, I promise!
The blog tour is shaping up nicely, and I'm excited about the five-day event! Hopefully you'll like the things the various blogs, Mommy's a Book Whore, and I have put together for you.
So that's Jase, just about all tidied up, all preparations nearly complete. But, did you know I've been working on five books at once? They are all in different stages, but there are five active manuscripts on my computer right now! CraZy, I know!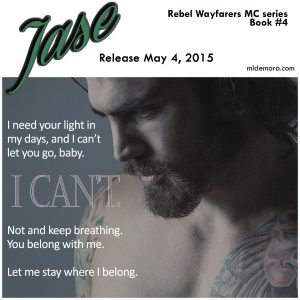 So, in June, we'll have Gunny hitting the eReaders and bookshelves, and I cannot wait. Even though he was quite the surprise character, he developed into a really complex guy, and one that lead me into interesting and intense places for research. I appreciate the guys who opened their hearts and lives to me, letting me see the pain and darkness residing within, and also the hope and love. PTSD is such a hard-riding beast, hungry and remorseless in the way it devours lives.
Then, Mason in October, and this is the book I've heard so many folks say they cannot wait for. People, I'm right there with you, but for me it's a true double-edged blade, equal parts both excitement and terror. On the one side…I can't wait for you to read Mason, gaining an understanding of the full impact of how his life was guided and molded by so many different people, both good and bad. How his experiences were all in preparation for what comes next. Then, on the other side…I'm freaked right the fuck out because there are so many folks who say they can't wait for his story! He's the glue that holds the series together, and I can only tell his tale in the way he's asked of me, and hope it stands up to scrutiny.
Finally, rounding out 2015, we'll see the release of book #7, Hoss, in November. With each book, the characters drive me to find songs and quotes that speak in their voice, and Hoss has a unique one. Here are the two quotes for his story, you'll have to let me know how they make you feel!
"She's mad but she's magic. There's no lie in her fire." ~ Charles Bukowski
"The truth is, everyone is going to hurt you. You just got to find the ones worth suffering for." ~ Bob Marley
Love you, my Rebels. Every fucking day you make my life better!
Muuwah! <3