There's been a LOT going on since I last posted. I've been too busy writing stories and books to do a blog post, but I promise to try and … who am I kidding. If the guys wanna talk, I'll listen to them — that's who you want to hear from anyway, right?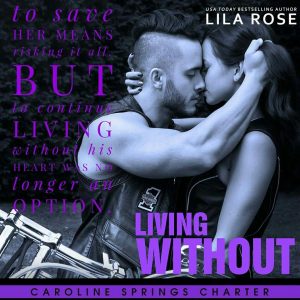 So let's take advantage of their relative silence at the moment to begin with the biggest news ever in the history of big news. A couple of our guys are going to make an appearance in an upcoming Lila Rose book, Living Without.
I am uber excited to have worked with Lila on this project. Those who know me understand how much I love to read her stories, and to know that my words are going to be included in one of her books is unreal. It's been an absolute blast getting to tuck little bits of our guys into Lila's story, and even being small cameo appearances, I'm thrilled that she selected me to work with on this cross-over effort. I hope you like your little taste of the Rebels Down Under.
Available Nov. 7, 2016, preorders on all platforms:
Amazon
iBooks
Kobo
Nook
---
So that's one thing. Another is that Watcher, Rebel Wayfarers MC #9, is in my editor's hands. Eeepp! Right now I am sticking to the Dec. 5 release date, but if the stars align we might get to see this book before Thanksgiving! So exciting, yeah?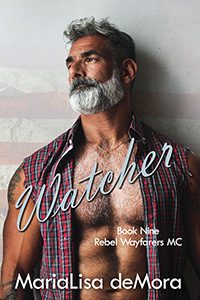 We follow Michael Otey from age 15 to present day. We get to tag along with him overseas, where he was in the Army, fighting in the war, We see him working construction back in the US. And of course, we get to watch as he matures into the role of president of the Southern Soldiers, taking over from his brother. I'm hoping you'll love him as much as I do. He's been breathing my air for a while now, and I've come to decide that he's an alright guy. One I'd want in my corner, for sure.
Available Dec. 5, 2016, preorders on all platforms:
I feel like an infomercial dude. But wait, there's more!
---
A surprise novella. How's that for more?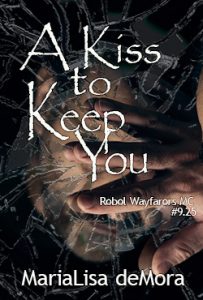 A Kiss to Keep You is a gorgeous HEA story that falls alongside Watcher's book in the series timeline. Love will find a way, and for Brute and Bexley it comes to life standing under the bright lights of a grocery store aisle. 'A Kiss to Keep You' is a short, sweet, happily ever after story that you are going to adore.
Richard Monte had it all. A satisfying career in the military, where he took pride in serving his country. He had close friends, good ones, and a goddaughter he doted on. His life was filled with riches, and looked to stay that way for the foreseeable future. All of that was stripped away in an instant, destroyed along with his face in the flash and explosion of a roadside bomb. Struggling to find his way in a new world, one where his very appearance is cause for fear and dismay, he stumbles upon a woman who seems to see beyond the surface, a curvy blonde named Bexley. Her reaction to him is so different, and she offers him an unexpected taste of beauty from her sweetly upturned lips. They seem destined to be together, but a rising danger in a far western state threatens everything he's worked to build. Not without her own demons, Bexley has to fight overwhelming odds to hold onto the man she's come to love.
Available Dec. 26, 2016, preorders on all platforms:
---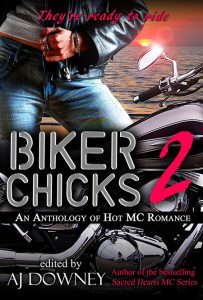 I hope you had a chance to read Gun Totin' Annie, the short story of mine in the Biker Chicks 2 anthology. Did you know that book was an Amazon best seller? So excited about my contribution to this three-part book series. I hoped you liked the story.
Gun Totin' Annie
Annie lived for her sisters in the club, but she was closest to Coates. They had founded the riding club together, and the women looked after each other. Always. In the search for even greater stability for their sisters, things had gone sideways and Annie had to scramble to find her center when Coates was brutally murdered. Enter Domino, one of the few men who knew enough about her recent errand to warrant suspicion in her sister's death, but there's something about him. Something different. So different, that even in this moment of grief, Annie knows it is rare and worth exploring.
---
Don't forget about the serial story that I'm giving away in my newsletter. Have you been keeping up with Kevin Hartley's story, Road Runner's Ride? The 1st installment is available on my website, but you'll have to join the newsletter to get access to the rest of the story.
The next newsletter send is 10/17, installment #11, leaving only 7 segments to go in this story! Past installments are available via the "View in browser" link from within the newsletter.
Once She Was Mine
Thumb sweeping across her bottom lip, Kevin was speechless with delight. He was certain it was her. Aurelie. She had matured since he last saw her, but the perfection of her beauty remained the same. Everything he remembered, everything he had dreamed about, right here in his hands. The only thing that marred the experience was the overwhelming terror staring back at him from …

And … I think that's it for this post. I'll try to be more faithful in posting, but you know me … Oh, wait. There's a free holiday story coming out early in December. More on that later!
Muuwah! <3
Woofully yours,
~ML