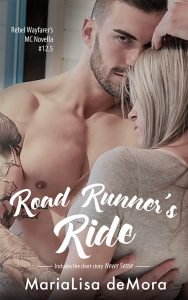 PURCHASE:
Road Runner's Ride
Rebel Wayfarers MC, Book 12.5
Sexy as hell chef.
Rough and ready biker.
Controlling and determined … Dom?
This is the pairing of a novella (Road Runner's Ride) and short story (Never Settle) set into the Rebel Wayfarers MC world featuring Kevin Hartley, Road Runner, and Kris Clarke, Goose. You're going to want to read all about their alpha beginnings!
What happens when we begin living out our dreams? Are you brave enough to push past society's barriers to see who you are? Kevin is, and he's willing to take us along on his path of discovery, promising to grant glimpses into secret worlds.
For both the novella and short story in the Rebel Wayfarers MC book series, timeline matches book #10, Bones. Road Runner's Ride was first released as an 18-installment serial sent out in my emailed newsletter. This version is greatly expanded, and I hope everyone enjoys seeing even more of Kevin and his Aurelie. Goose's story cried out to be told, and Never Settle, a one-sided short featuring Kris and Francine was originally published in one of the Biker Chicks anthology books. This version is expanded, too. Hope you enjoy this small view into his part of the RWMC.