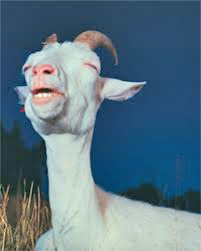 See that goat? –>
That was my face this morning when I typed the two best words in the English language:
The End
Bear, book #3 in the Rebel Wayfarers MC book series, is first-draft complete. He's had me up and at it both early and late nearly every day over the last week, and with every writing session I whittled down the number of remaining scenes until this morning I simply finished, slumping back into the couch because he was silent for the first time in months!
Nearly two weeks ahead of my self-imposed deadline, I want the story to "rest" for at least three weeks before I jump into self-editing. The book is due to the editor the third week of October, so that gives me nearly a month to tweak, tear up, revise, remove, read-aloud, and generally run amok with the story before I hand my baby over.
Beta readers will have it by early November, we'll get it back, tweak some more … and then the tentative launch date is December 1. Stay tuned!
~ML
PS – Jase is already pushing for his story, and I can't wait to share him with you all!