Never has one of my stories provided this much reader feedback. I'm still a newbie at this, barely a year and a half into the author gig, but this level of intense response to Hoss has been both terrifying and gratifying in a way that I find difficult to describe.
I'm awash in the emotions delivered to me from the folks who have read Hoss. I read your messages and am swept back to the moments when I penned the story. Back when I turned loose my controlling reins, let the characters have their heads, and followed where they led me. Led us. Because while I write for me in an effort to lessen the cacophony in my brain from all the characters, I have found that this story, in so many ways, this one is written for all of us.
I've heard tales of people reading the story on the subway, and interacting with commuters seated and standing around them. Talking through hard topics of abuse, abandonment, homelessness, and grief. Doing this with strangers and coming away enriched in a way they couldn't have anticipated. There are stories about folks reading sections of the book to their friends over the phone, via video chat, or aloud to their carpool. Folks who took vacation days from work in order to stay home and read the book, not for the first time, but to read it a second or third time, each passage through the pages gaining more…finding more to take from the story.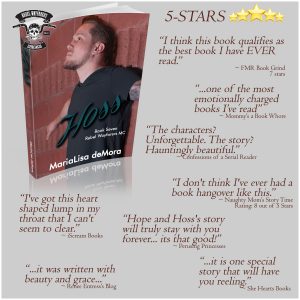 I have emails from mothers who want to buy a copy for their daughters, from daughters who want to buy it for their mothers, and from men who want to buy it for their sisters or mothers or daughters or (in one case) sons.
I've received messages from folks who in turn share their stories with me, telling me how much Hoss and Hope touched their lives. Touched them with memories of difficult challenges overcome. Reminded them of devastating aftermath moments that now strengthened them. Moved them to wish for different personal conclusions for events in their past. Gratified them to remember how they were blessed with strong mothers or fathers, aunts or uncles, with adults who shouldered things so the precious children in their lives didn't have to.
What I am getting from all of this is that the story has given to me. The intertwined stories of Hoss, of Hoss and Hope, of Hoss and Hope and Sammy…this story means something. It is significant to you, to them. That importance might be different for each person, but it matters to nearly all who read it and I am so grateful to you who have shared those meanings with me.
I set up a Facebook group for folks who want to talk about the book, thought it might be good to have folks around us who are likeminded. Consider yourself warned: Don't join until you've finished the book, as the group is filled with spoiler posts. https://www.facebook.com/groups/hoss.rwmc/
I am grateful beyond measure for each of you, appreciative that you've invited me into your lives in a way that means we're forever connected. Pleased that we are on this journey together in a way that means I'm not alone.
Thank you for that.
~ML
Amazon:
Amazon US
Amazon CA
Amazon AU
Amazon UK