Hoss is a story that took a long time to percolate in my brain. I worked on it in bits and pieces, with dozens of shorthand notes in my phone, those simple two or three sentence ideas about the characters circling out and back again. It was a different process from any of the other stories, because I didn't have an outline or a chapter breakdown. Just notes.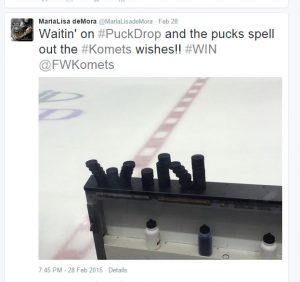 You should already know I love hockey, and that I go to the rink for nearly every home game of the Fort Wayne Komets. Well, last season, I was attending a game and found my Hope. Literally, found her staring down at me from the jumbo screens hanging from the arena ceiling.
During the first period of the game, just before intermission, the good folks in the media room flashed a picture up on the overhead scoreboard screens. It was the 'Oblivious Cam,' where they target someone who's not paying attention, and then put a timer on them until either they look up and see they're on the big screen, or someone around them brings it to their attention. Laughter and embarrassed blushes typically follow as they wave at the camera before the next hapless victim splashes across the wide screens.
This time it was a chick, a younger yet mature woman. Definitely not a kid, this gal was studiously bent over her phone, which isn't an uncommon sight when you're out and about, or hell, at some family dinners these days…but this was a public display of what looked to be a troubling moment in her life. The lines her body drew in the stadium seat were taut, stressed, and when she finally glanced up into the camera, her features were pale and she appeared deeply shaken. Something profound was going on with her; we were witness to a moment that might define her life, and it struck a chord inside me.
For the next fifteen minutes, in my mind, she became Hope, Mercy's sister. From what I saw with the chick on the screen, I knew Hope had to have a secondary reason to show up in Fort Wayne. She wouldn't uproot her little family just to find Mercy and introduce herself. Now, I just had to find out what that reason was.
Frantic tapping on my phone ensued and I wrote the opening for the first scene from the book sitting in my seat behind the home bench, patiently waiting for play to resume. In my head, I was sitting rinkside at hockey practice with a single mom and her beloved son, their lives teetering on the edge of disaster.
My Hope and Sammy came to life that night, winding their way into my heart, and eventually finding their way into Hoss' as well. So there you go, now you are in the know! That, my friends, is how Hope and Sammy came to be.
I want to throw out a loud 'thank you' to photographer Michael Meadows for helping me find the perfect image for the cover. I believe Benjamin J. McKee, the model you see in the picture, makes an absolutely phenomenal Hoss, and meeting the man was such a pleasant surprise! So sweet and kind, he was quite patient with the star struck author taking up so much time in the middle of an event in Nashville.
Thank you, Ben. Mattered more than you know.
Add Hoss, Rebel Wayfarers MC #7 to your Goodreads TBR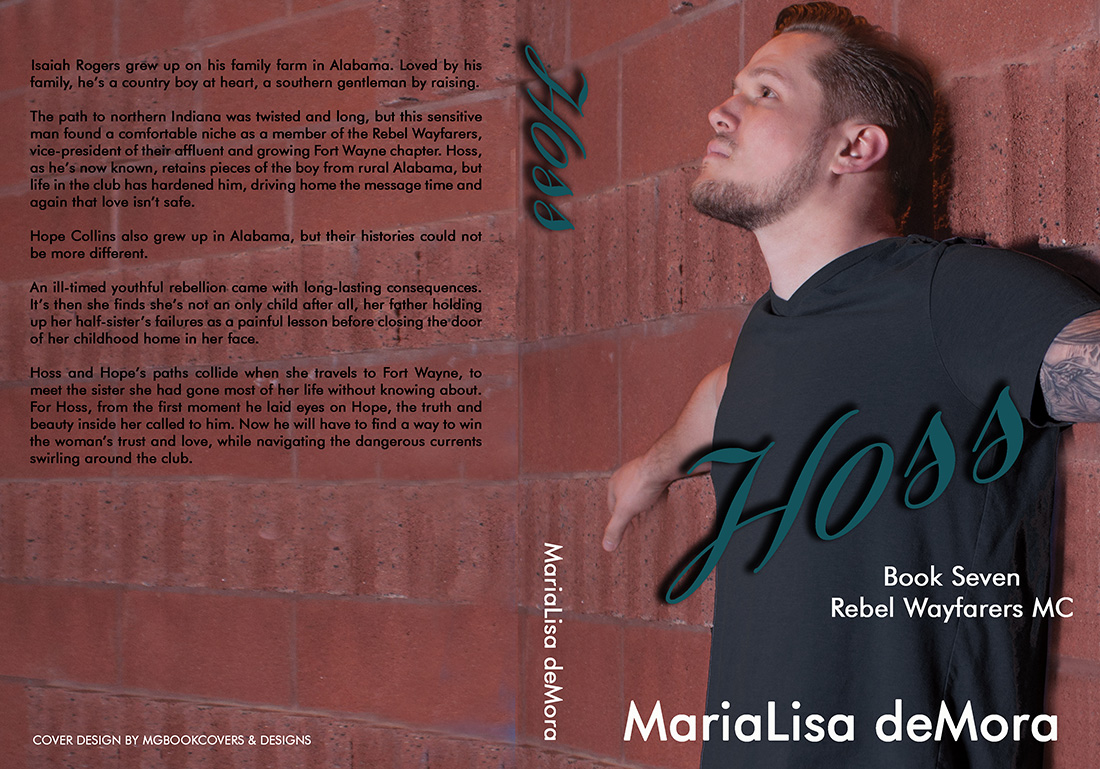 Isaiah Rogers grew up on his family farm in Alabama. Loved by his family, he's a country boy at heart, a southern gentleman by raising.
The path to northern Indiana was twisted and long, but this sensitive man found a comfortable niche as a member of the Rebel Wayfarers, vice-president of their affluent and growing Fort Wayne chapter. Hoss, as he's now known, retains pieces of the boy from rural Alabama, but life in the club has hardened him, driving home the message time and again that love isn't safe.
Hope Collins also grew up in Alabama, but their histories could not be more different.
An ill-timed youthful rebellion came with long-lasting consequences. It's then she finds she's not an only child after all, her father holding up her half-sister's failures as a painful lesson before closing the door of her childhood home in her face.
Hoss and Hope's paths collide when she travels to Fort Wayne, to meet the sister she had gone most of her life without knowing about. For Hoss, from the first moment he laid eyes on her, the truth and beauty inside her called to him. Now he will have to find a way to win the woman's trust and love, while navigating the dangerous currents swirling around the club.
 "The truth is, everyone is going to hurt you. You just got to find the ones worth suffering for." ~ Bob Marley