I received a newsletter this morning that made me cry.
Swear to God.
Throat tight, look away from anyone in the vicinity, clench your teeth in a futile effort to stop it … cry.
I have these friends who own and operate a marketing – slash – programming – slash – design company in Indy. Rare Bird. Even the name of the company lends itself to thought.
These gentlemen are phenom at what they do, and I highly recommend them if you are in need of design for print or web, someone to develop and spearhead a marketing campaign, programming of complex and leading-edge software, or a plethora of other efforts to ensure business success. In addition to all of that, they also send out newsletters, update their blog, reach out to the masses in a way that is intended to provoke thought … and perhaps change.
So this morning, I received one of those missives. And, at work, in my office, I had to close my door and grab the tissues. It was a moment, which for me, was as profound as the epiphany I experienced last year when Stevie D from Buckcherry deemed me a "First time caller" and I realized I did not want to be THAT person. The one who was a non-starter, the one cowed by experiences, floating through life without purpose.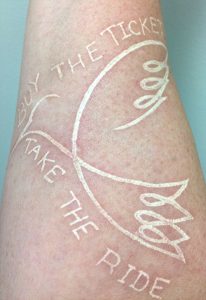 I recently acquired a little new ink. Similar to the other visible tattoo, this one is again on a forearm, again upside down to the rest of the world, and again in white. Because it's not for you, it's for me. It is not a shouted declaration for everyone else, but instead is a whispered reminder to myself.
For my mother, a continuous line drawing of a hummingbird, where even the positioning on my arm is intentional, lining up with the lifeline on my palm. The hummingbird is important for a variety of reasons, but that's not the tie-in here.
The last line of the Rare Bird newsletter said, "You're up. Go do something historic."
There's the tie-in.
Incorporated into my tattoo is a phrase, taken from Hunter S. Thompson's writing, of "Buy the ticket, take the ride." Done in carnivalesque block lettering, following an up-and-down rollercoaster sway, because life never follows a straight line. Life is as chaotic and thrilling as anything you would find in an amusement park. Topsy-turvy, upsie-downsie, hang on tight, lean into the corners and steer things where you can. To me, this is a reminder to live an intentional life.
Buy the ticket. Take the ride. Do what I mean, mean what I do. Live intentionally, in the moment. Do something historic.
Here's a link to their blog, I suspect if you go digging through their archives, you may find a gem with which to inspire yourself.
Live an intentional life.