I'm thrilled to have worked with Eric Battershell, photographer, Stefan Northfield, model, and Debera Kuntz, artist, on this cover. I met Eric in Houston in 2015, and his approach was so sweetly kind he made quite the impression on this author. Fast forward to spring of 2016 when I was searching for the right model to portray Bones. I spent hours looking at portfolios from various photographers and models, finding nearly a dozen guys who were almost perfect. I needed this character to be powerful, larger than life, enigmatic, and awe inspiring.
I did find a couple of models who were perfect, but due to distance, scheduling, or other commitments, not an option. That was until I saw a post from Eric that one of the perfect guys, Stefan, was coming to Ohio from his home in the UK to work a shoot. A bunch of fast-flying messages and a few hours later, they had captured this image for me: Bones, Rebel Wayfarers MC book #10.
And here it is, the cover for Bones. Hope y'all like it.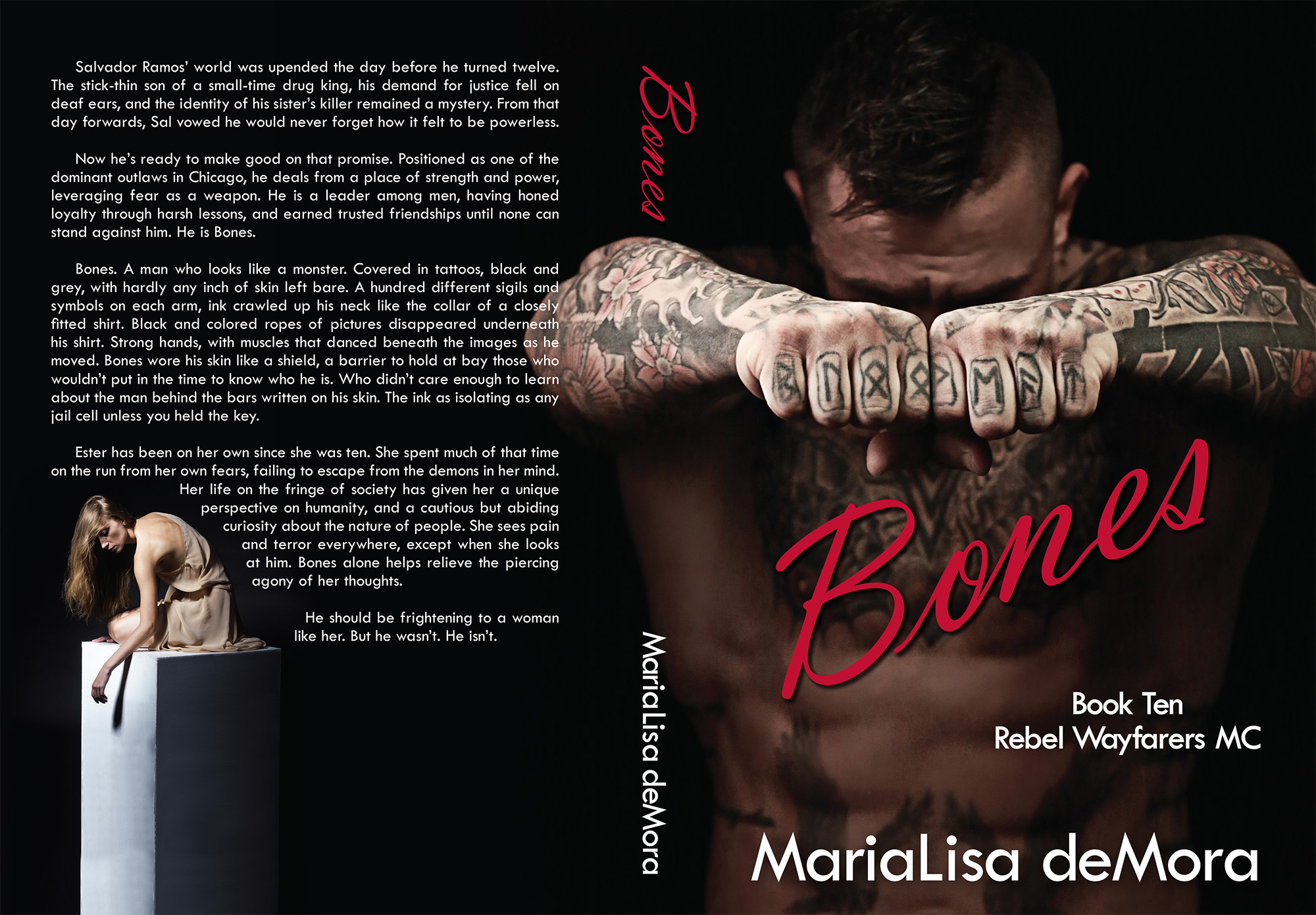 Bones
Rebel Wayfarers MC, 10
2017
Raised in a hellhole echoing with the sounds of conflict, Bones most profound childhood memory is of the day he died. Decades later, he has built an empire where he is king. His brothers have his back, and life is good. So good, he doesn't realize what's missing until he meets her. Ester seems to be the one woman capable of looking beyond his mask and seeing … him.
Full description:
Salvador Ramos' world was upended the day before he turned twelve. The stick-thin son of a small-time drug king, his demand for justice fell on deaf ears, and the identity of his sister's killer remained a mystery. From that day forwards, Sal vowed he would never forget how it felt to be powerless.
Now he's ready to make good on that promise. Positioned as one of the dominant outlaws in Chicago, he deals from a place of strength and power, leveraging fear as a weapon. He is a leader among men, having honed loyalty through harsh lessons, and earned trusted friendships until none can stand against him. He is Bones.
Bones. A man who looks like a monster. Covered in tattoos, black and grey, with hardly any inch of skin left bare. A hundred different sigils and symbols on each arm, ink crawled up his neck like the collar of a closely fitted shirt. Black and colored ropes of pictures disappeared underneath his shirt. Strong hands, with muscles that danced beneath the images as he moved. Bones wore his skin like a shield, a barrier to hold at bay those who wouldn't put in the time to know who he is. Who didn't care enough to learn about the man behind the bars written on his skin. The ink as isolating as any jail cell unless you held the key.
Ester has been on her own since she was ten. She spent much of that time on the run from her own fears, failing to escape from the demons in her mind. Her life on the fringe of society has given her a unique perspective on humanity, and a cautious but abiding curiosity about the nature of people. She sees pain and terror everywhere, except when she looks at him. Bones alone helps relieve the piercing agony of her thoughts.
He should be frightening to a woman like her. But he wasn't. He isn't.