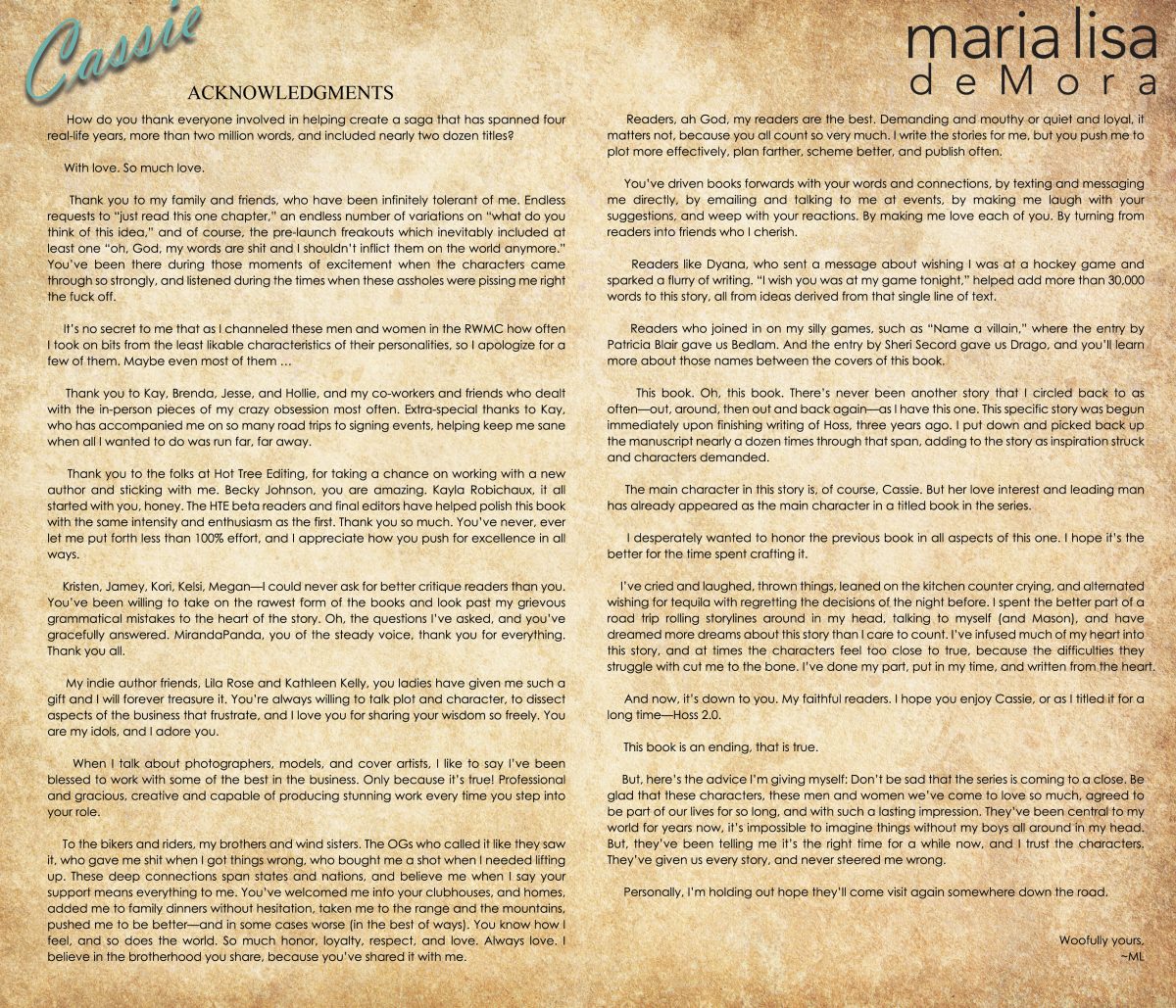 Cassie, RWMC #12
Now live!
Amazon: https://getbook.at/Cassie
BnN: http://bit.ly/BnN-Cassie
iBooks: http://bit.ly/Cassie-iTunes
Kobo: http://bit.ly/Kobo-Cassie
Google Play: http://bit.ly/GooglePlay-Cassie
BookBub TBR: http://bit.ly/BB-Cassie
Goodreads TBR: http://bit.ly/GR-Cassie
After losing the woman he believed his one and only, will a man like Hoss take a second chance on true love?
Final full-length book in the Rebel Wayfarers MC saga.
#MariaLisadeMora #RebelWayfarersMC #RWMC #TeamCassie #Teamhoss #LoveCassie #finalbook #howcanitbeover #neversaynever
ACKNOWLEDGMENTS
How do you thank everyone involved in helping create a saga that has spanned four real-life years, more than two million words, and included nearly two dozen titles?
With love. So much love.
Thank you to my family and friends who have been infinitely tolerant of me. Endless requests to "just read this one chapter," an endless number of variations on "what do you think of this idea," and of course, the prelaunch freak-outs, which inevitably included at least one "oh, God, my words are shit and I shouldn't inflict them on the world anymore." You've been there during those moments of excitement when the characters came through so strongly, and listened during the times when these assholes were pissing me right the fuck off.
It's no secret to me that as I channeled these men and women in the RWMC how often I took on bits from the least likable characteristics of their personalities, so I apologize for a few of them. Maybe even most of them…
Thank you to Kay​, Brenda​, Jesse​, and Hollie​, and my coworkers and friends who dealt with the in-person pieces of my crazy obsession most often. Extra-special thanks to Kay, who has accompanied me on so many road trips to signing events, helping keep me sane when all I wanted to do was run far, far away.
Thank you to the folks at Hot Tree Editing​, for taking a chance on working with a new author and sticking with me. Becky Johnson​, you are amazing. Kayla Robichaux​, it all started with you, honey. The HTE beta readers and final editors have helped polish this book with the same intensity and enthusiasm as the first. Thank you so much. You've never, ever let me put forth less than 100 percent effort, and I appreciate how you push for excellence in all ways.
Kristen​, Jamey​, Kori​, Kelsi​, Megan​—I could never ask for better critique readers than you. You've been willing to take on the rawest form of the books and look past my grievous grammatical mistakes to the heart of the story. Oh, the questions I've asked, and you've gracefully answered. Miranda​Panda, you of the steady voice, thank you for everything. Thank you all.
My indie author friends, Lila Rose- Author​ and Kathleen Kelly​, you ladies have given me such a gift, and I will forever treasure it. You're always willing to talk plot and character, to dissect aspects of the business that frustrate, and I love you for sharing your wisdom so freely. You are my idols, and I adore you.
When I talk about photographers, models, and cover artists, I like to say I've been blessed to work with some of the best in the business. Only because it's true! Professional and gracious, creative and capable of producing stunning work every time you step into your role.
To the bikers and riders, my brothers and wind sisters. The OGs who called it like they saw it, who gave me shit when I got things wrong, who bought me a shot when I needed lifting up. These deep connections span states and nations, and believe me when I say your support means everything to me. You've welcomed me into your clubhouses, and homes, added me to family dinners without hesitation, taken me to the range and the mountains, pushed me to be better—and in some cases worse (in the best of ways). You know how I feel, and so does the world. So much honor, loyalty, respect, and love. Always love. I believe in the brotherhood you share, because you've shared it with me.
Readers, ah, God, my readers are the best. Demanding and mouthy or quiet and loyal, it matters not, because you all count so very much. I write the stories for me, but you push me to plot more effectively, plan farther, scheme better, and publish often.
You've driven books forwards with your words and connections, by texting and messaging me directly, by e-mailing and talking to me at events, by making me laugh with your suggestions, and weep with your reactions. By making me love each of you. By turning from readers into friends who I cherish.
Readers like Dyana​, who sent a message about wishing I was at a hockey game and sparked a flurry of writing. "I wish you was at my game tonight," helped add more than 30,000 words to this story, all from ideas derived from that single line of text.
Readers who joined in on my silly games, such as "Name a villain," where the entry by Patricia Blair gave us Bedlam. And the entry by Sheri Secord gave us Drago, and you'll learn more about those names between the covers of this book.
This book. Oh, this book. There's never been another story that I've circled back to as often—out, around, then out and back again—as I have this one. This specific story began immediately upon finishing writing Hoss, three years ago. I put down and picked back up the manuscript nearly a dozen times through that span, adding to the story as inspiration struck and characters demanded.
The main character in this story is, of course, Cassie. But her love interest and leading man has already appeared as the main character in a titled book in the series.
I desperately wanted to honor the previous book in all aspects of this one. I hope it's the better for the time spent crafting it.
I've cried and laughed, thrown things, leaned on the kitchen counter crying, and alternated wishing for tequila with regretting the decisions of the night before. I spent the better part of a road trip rolling storylines around in my head, talking to myself (and Mason), and have dreamed more dreams about this story than I care to count. I've infused much of my heart into this story, and at times, the characters feel too close to true, because the difficulties they struggle with cut me to the bone. I've done my part, put in my time, and written from the heart.
And now, it's down to you. My faithful readers. I hope you enjoy Cassie, or as I titled it for a long time—Hoss 2.0.
This book is an ending, that is true.
But, here's the advice I'm giving myself: Don't be sad that the series is coming to a close. Be glad that these characters, these men and women we've come to love so much, agreed to be part of our lives for so long, and with such a lasting impression. They've been central to my world for years now; it's impossible to imagine things without my boys all around in my head. But they've been telling me it's the right time for a while now, and I trust the characters. They've given us every story, and never steered me wrong.
Personally, I'm holding out hope they'll come visit again somewhere down the road.
Woofully yours,
~ML