Isn't this image from Eric McKinney of 6:12 Photography amazing! Fun fact, Enrico Ravenna, the model, is my real-life celebrity crush! The man has the most perfect eyebrows, and his face is just… So, when I saw this photo in a gallery of available images, I snapped that puppy up! I hope you like it even half as much as I do! ~ML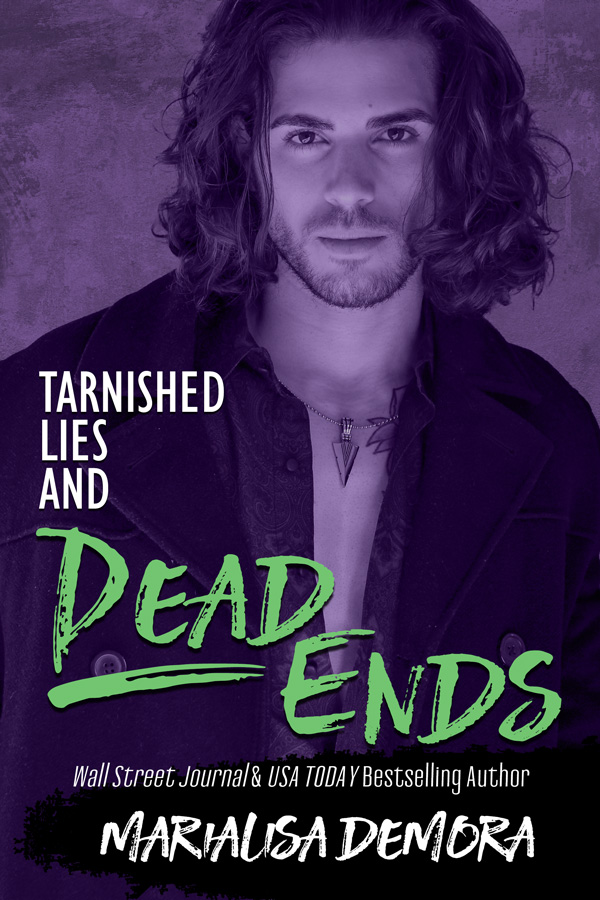 Tarnished Lies and Dead Ends
Wildman and Justin's Story
Wildman learned a long time ago that trust in others wasn't healthy. Did not lend itself to a long life. Trust gave a man false confidence and could get a man dead. And then, blood or not, sometimes only fate determined if that ending came quick, or slow. It had taken being brought into the Incoherent MC to overcome his beliefs, and now his patch brothers of the IMC were his only allies. Then, in an instant, everything changed. A flash of lightning, shadows on a wall, blood on his fists—and a beautiful woman on her knees. His life would never be the same.
Justine LaPorte had been born MC royalty. Daughter of Justice Morgan, sister of Davis Mason, she thought she'd fought free long ago, carving her own path, focused on becoming the antithesis of everything any MC stood for, carrying her badge with pride. When her federal investigation puts her in harm's way, she finds herself once again embroiled in club politics when she's rescued by an officer from Incoherent, a southern MC at odds with both of the clubs in her past. Just her luck, that man who did the rescuing? He trips all her triggers, in and out of bed.
Tarnished Lies and Dead Ends
Universal link: books2read.com/deadends
Neither This Nor That MC, Book Five
COVER REVEAL!
Author: MariaLisa deMora
Photographer: 6:12 Photography by Eric McKinney
Model: Enrico Ravenna
Amazon universal: https://getbook.at/DeadEnds
Google Play: https://mldemora.me/GP-DeadEnds
BnN: https://mldemora.me/Nook-DeadEnds 
Apple Books: https://mldemora.me/Apple-DeadEnds
Kobo: https://mldemora.me/Kobo-DeadEnds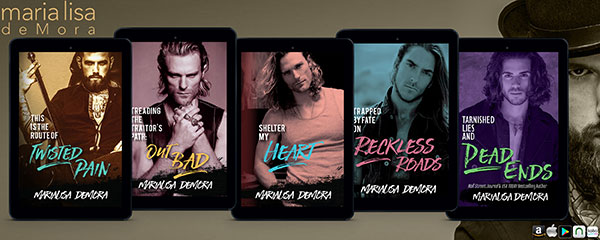 Neither This Nor That MC series (5 books)
This is the Route of Twisted Pain, book #1
https://books2read.com/TwistedPain
Treading the Traitor's Path: Out Bad, book #2
https://books2read.com/OutBad
Shelter My Heart, book #3
https://books2read.com/ShelterMyHeart
Trapped by Fate on Reckless Roads, book #4
https://books2read.com/RecklessRoads
Tarnished Lies and Dead Ends, book #5, Feb 8
https://books2read.com/deadends