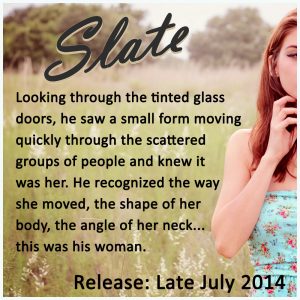 It won't be long now! Slate will be released later this month, and the HOT cover reveal is just around the corner. Melissa Gill from MGBookcovers and Designs, who worked her magic on Mica's cover, is doing the cover for this story as well, which pretty much guarantees the hawtness level!
If you enjoyed meeting Slate in Mica's story, just wait until you get to know him better. He's funny, caring, loyal, and a total badass – just the way a hot, alpha male should be! You'll find out about the years he spent growing up in Wyoming, and how he made his way across country to Chicago. I loved how easily his story flowed from my fingers, and he's become nearly as central a character to the series as Mason!
For those who have asked – YES, Mason makes more than an appearance in Slate's story, as they become friends…and brothers. We come to know so much more about Mason in this story, and I don't believe you'll be disappointed!
Kayla The Bibliophile, from Hot Tree Editing, is working with me again, and she sent me a picture one day of  goosebumps she'd gotten from the story while editing! Made my day!
So get ready – the cover will be shown here first! Make sure you sign-up to receive updates and information on the book series. I'm deep into Bear's story now, and his journey is difficult, but worthy. Thanks to Rob Kula, who I met in Georgia on a hike earlier this year for the inspiration, I hope your AT attempt is still going well.
Slate is up on Goodreads, have you added it to your "To Read" list yet?
www.goodreads.com/book/show/22610747-slate
Don't miss the excerpt from Slate, available on the site now:
https://www.mldemora.com/books/rebel-wayfarers-mc-series/slate
Finally, a plea…if you've already read Mica, book #1 in the Rebel Wayfarers MC book series, go and post a review!
www.amazon.com/dp/B00L7H0W9O/
www.goodreads.com/book/show/22399518-mica
Back to Bear, he's beating at my brain to get on paper so he can share himself with all of you.
Thanks for…well, everything!
~ML