Travel the world this June to read a love story!
Two years ago Lila Rose and I worked together to pull my Rebel Wayfarers MC into the world of her Hawks, Caroline Springs. We featured not only Mason, but also a little-known RWMC character, Gypsy, and the ending of that book had him leaving Australia to come back to the United States. But he didn't come alone! Kelsey, a character introduced in Living Without, came home with him. Now you'll have the chance to read more about Gypsy, and learn where his story started and watch as he finds his way first to the Rebels, and then Down Under to Oz, where he stumbles onto the woman who will become the love of his life.
Be sure to visit Lila's website to learn more about her books, and follow her on Goodreads to receive updates about releases.
Gypsy's Lady
June 11
Pre-order your copy today!
Gypsy had lost faith in his fellow man and was drifting through life when he found the Rebel Wayfarers MC. Having forever been a stranger to love, he was stunned when it beckoned to him from a darkened room in faraway Oz. The route to hold the woman of his dreams might be turbulent, but now that he's found her, he's determined to keep her…no matter the cost.
Amazon: http://getbook.at/GypsysLady
Barnes & Noble: http://bit.ly/BnN-Gypsy
iBooks: http://getbook.at/GypsysLady
Kobo: http://bit.ly/Kobo-Gypsy
Google Play: http://bit.ly/GooglePlay-Gypsy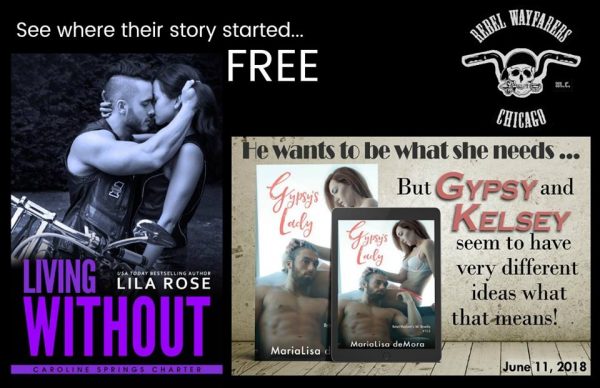 FREE — See where Gypsy & Kelsey's story started in Lila Rose's book, Living Without!
In preparation for the upcoming release of Gypsy's Lady (Rebel Wayfarers 11.5) by MariaLisa deMora on June 11th, the amazing Lila Rose has put her book, Living Without (Hawks MC, Caroline Springs book #4) FREE for a limited time! One Click now to see where Gypsy and Kelsey's story began when the Rebel Wayfarers MC met Hawks MC.
Order your copy today!
Living Without
Amazon: http://mybook.to/HawksMC
Barnes & Noble: http://bit.ly/2cSyr85
iBooks: http://apple.co/2ci1kcn
Kobo: http://bit.ly/2cGedxJ
Google Play: https://bit.ly/2HTOd1I