Can I be honest with you? I still don't know exactly how Duck came to be in my head. There's no one person or moment that defined the character, but rather this was a story that revealed itself to me in bits and pieces, fits and starts. It's a tale plundered from dream observations, misheard and overheard conversations, and the brilliance of human imperfections.
From the beginning, back when Mica began coming to me as I slept, I liked the idea that she brought along her friends. It was cool to see the people she surrounded herself with. I noticed along the way that there was this one guy who worked in the background to keep her safe. Who tried to steer bad things away from her. An undefined man who often accompanied her, but edged through the shadows.
For a chick who hadn't much good in her life, it made me happy to know this mysterious character cared enough to give her that and, over time, I found something there I could work with. An echoing kaleidoscope of beauty that helped cement the man, taking him from the shadows and into the light, bringing Reuben Nelms out where we all can benefit from knowing him.
The story spinner in me wanted to know: What would it take to become that person? What could drive a man or woman to devote their life to keeping another being safe when there is no benefit, and in fact, a significant sacrifice required in order to do so? What would have to happen in order for them to become that person doing right, holding on to that charter? And once there…what would motivate them to stay the course?
Life would be good for the person under that kind of protection. What a boon it would be to have someone to count on like that. Someone who we'd know would do right for right's sake. A guardian who dealt in justice from a position of strength; who would shield and keep us safe at any cost.
This book is about finding that within yourself. Digging deep and discovering the bones to build yourself into that person. That hero. About learning how to heal from what might have seemed a crippling blow. An injury, not on the outside, where people can see the struggle, but on the inside, where things fester. That hollow inside us where bad things have the darkness and isolation needed to grow and take root. Infestations of fear and guilt brought about by betrayal, beaten back when we find a way to shine light on them. Take away their power to hurt, and scar. Becoming righteous. Heros.
Becoming…a man like our Duck.
The cover photo featuring James Xavier by Michael Meadows Studios is one of my all-time favorites. To me, James makes a perfect Reuben Nelms, and his secret smile in this image holds so much mystery. Makes me want to get in there and see what I can learn about his story. Get in his head, find out about the character…the man. Love the shot, love the man, love the fotog who made it all possible. Thank you both!
Debera Kuntz, thank you for being willing to tackle this project with me, I adore the cover! You rock, chickie!
Pre-order links:
Amazon
BnN
iTunes
Add Duck to your Goodreads TBR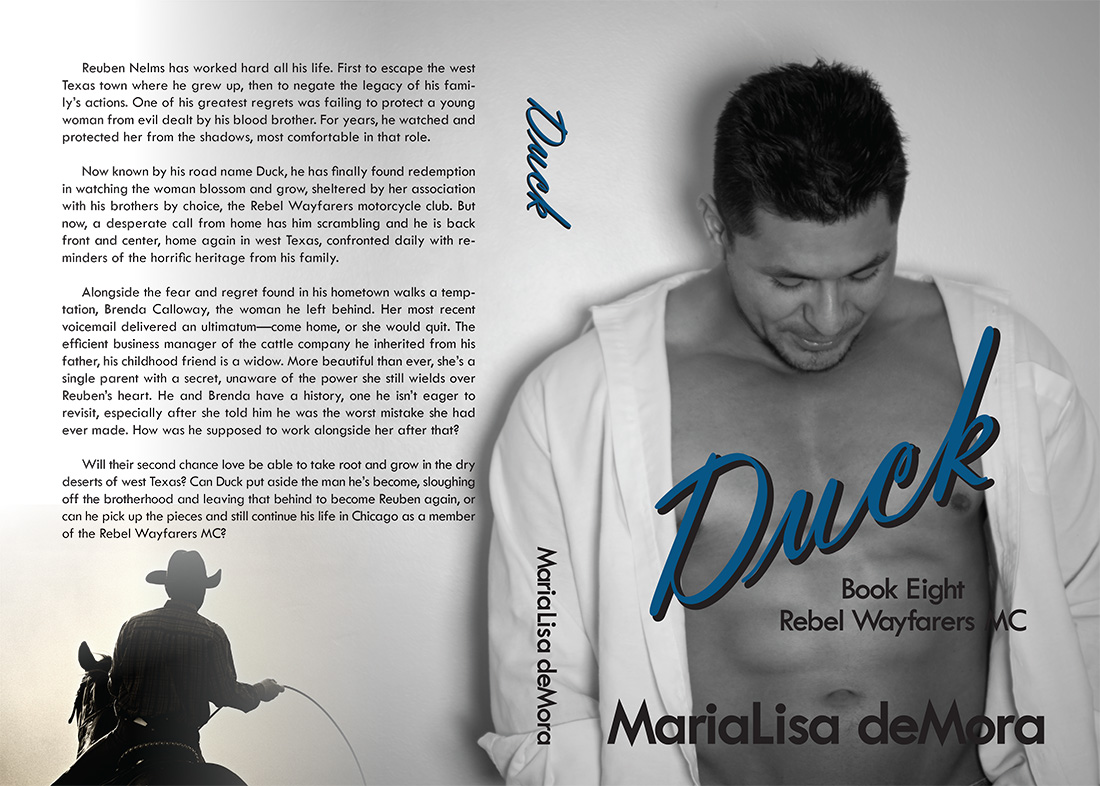 Reuben Nelms has worked hard all his life. First to escape the West Texas town where he grew up, then to negate the legacy of his family. One of his worst regrets was failing to protect a young woman from evil dealt by his blood brother. For years afterwards, he watched and protected her from the shadows, most comfortable in that faceless role.
Now known by his road name, Duck feels he's finally found redemption in watching that woman blossom and grow, sheltered by her association with his brothers by choice, the Rebel Wayfarers motorcycle club. Things were settled, predictable, until a desperate call from home sets him scrambling and he is back front and center, home again in West Texas, finding himself confronted daily with reminders of his horrific family heritage.
Treading alongside the remembered fear and regret surrounding him walks a temptation, Brenda Calloway, the hometown woman he left behind. The efficient business manager of the cattle company he inherited from his father, his childhood friend is now a widow. More beautiful than ever, she's a single parent with a secret, unaware of the power she still wields over Reuben's heart.
Will their second chance love be able to take root and grow in the dry deserts of West Texas? Can Duck put aside the man he's become, sloughing off the brotherhood and leaving that behind to become Reuben again, or will he be able to pick up the pieces of his teenage love and still continue his life in Chicago as a member of the Rebel Wayfarers MC?
"Everyone has three lives: a public life, a private life, and a secret life."
– Gabriel Garcia Marquez