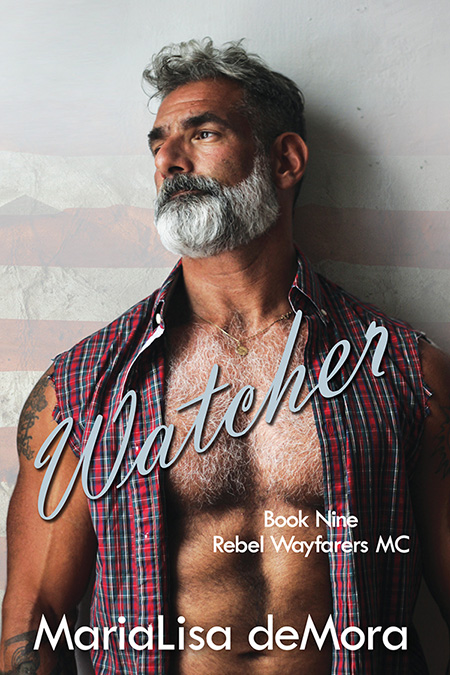 Watcher, Rebel Wayfarers MC, book #9
Buy links:
Amazon
Barnes & Noble
iTunes
Kobo
Watcher is known in the MC community as a man with strong beliefs. His sense of honor has been built in him from childhood, forged in the mountains of Kentucky, rooted there by family and circumstance. In the ever-changing world of outlaws, he's made a place for himself, winning a seat at the table for negotiations and decisions that impact not only his club, but those around him. Powerful men ask for his counsel, revealing a trust and respect that can only be earned. His family loves and supports him, too, and he protects his wife and children with a fierceness that consumes. Enemies loom on the horizon, because for every man he calls brother, there are those who would take everything from him.
Full description:
Michael Otey learned early in life that people outside the ranks of family and close friends were not to be trusted. They were the kind of folks who would use you right up, betraying and throwing you away once your usefulness was exhausted. At sixteen, life nearly derailed in a moment of rage, he was presented with two impossible choices. He selected a track, prayed it was the right one, and set foot on the path of honor, because even at such a young age, he knew honor mattered.
Almost immediately things started looking up in his life. The Army molded him into a soldier, giving him no choice but to excel. Through years of service, the men in his unit forced him to become a leader, moving him to that role by demonstrating with every action that they believed he was trustworthy. Brothers in arms.
That was when death and destruction once again rocked his world, forcing another impossible choice. Pierced through with a thirst for vengeance, raging and alone, he gravitated towards the kind of men who shared his feelings. Hard men, but ones filled with an unshakable sense of honor. Members of a motorcycle club who were not afraid to wreak devastation in support of the found family they shared. The Outriders MC. Brothers in spirit.
To escape the ghosts haunting them both, his older brother had launched his own club, filled with veterans and soldiers. His brother's stories about his members set up a longing deep inside him, and Mike found himself reaching towards the forgiveness and peace his brother had found. But, in an atmosphere drowning in blood and hate, peace was hard to find. Determined to start fresh, it wasn't long before Mike, now known as Watcher, followed his brother west, finding a true home as a Southern Soldiers. Brothers in truth.
Then, on what should have been a routine run into Old Mexico, Watcher was confronted by both loss and hope. He saved a doe-eyed beauty from a life branded by pain, but in turn lost the last close link to his family. In her it seemed he found a reason for carrying on, even perhaps a chance at love. As he rebuilt his life, he vowed to keep her safe and the club strong, promising to protect everything that mattered. Brothers. Family. Honor. To do that, Watcher would need to open long-tattered connections to Kentucky, reaching far into his pain-filled past and calling on Davis Mason and the Rebel Wayfarers MC.
"Whoever fights monsters should see to it that in the process he does not become a monster."
– Nietzsche
Amazon ★•★ Barnes & Noble ★•★ iTunes ★•★ Kobo
---