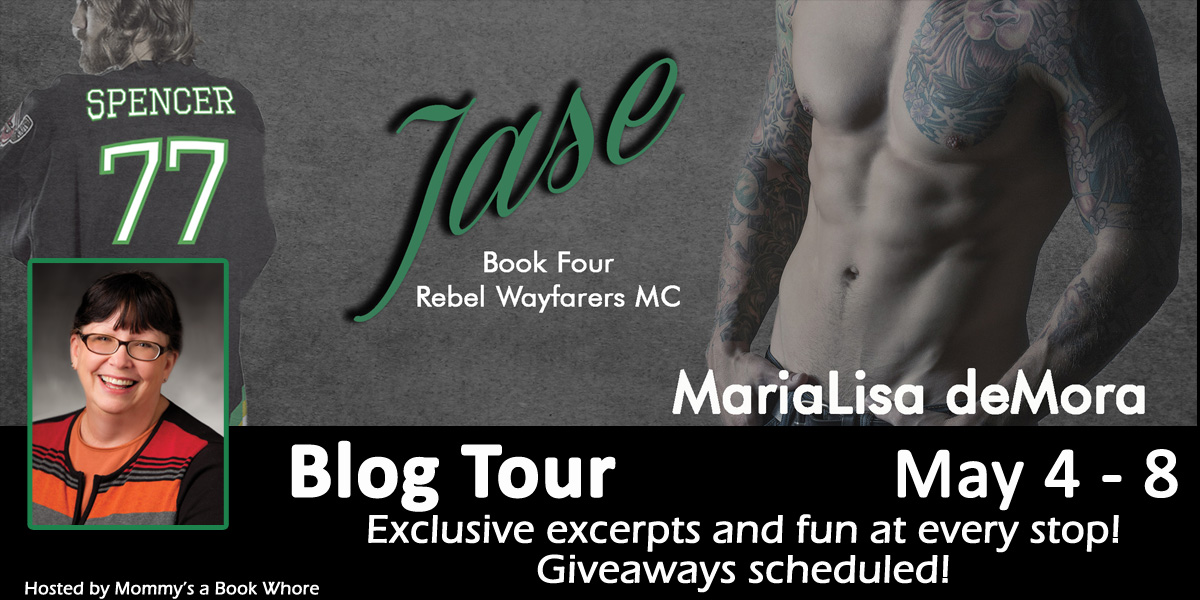 May 4 – 8, 2015
I'm proud to post this list for the blog tour: Jase, scheduled May 4-8, 2015. There are some excellent bloggers participating, and a huge thanks goes out to each and every one of them. Muuuwah!! I'm very excited to have such a great line-up of stops for the tour!
Organized by Mommy's a Book Whore, the tour features new excerpts, interviews, a giveaway, and maybe some playlist fun.
May 4, 2015
Dowie's Place

FMR Book Grind

Hooked On Books Forever

hookedonbooksforever.blogspot.co.uk

Lustful Literature

Facebook.com/lustfulliterature

Perusing Princesses

Facebook.com/PerusingPrincesses

Sassy Southern Books

Facebook.com/sassysouthernbookblog

We Love Kink

Who Picked This?
May 5, 2015
Knock Your Books Off

knockyourbooksoff.blogspot.com

Facebook.com/Knockyourbooksoff

Padme's Library

Facebook.com/heather.SW.york.1973

Sammy's Book Obsession

sammysbookobsession.blogspot.com

Facebook.com/1sammysbookobsession

She Hearts Books
May 6, 2015
A Dirty Book Affair

Bex 'n' Books

Liz's Reading Life

Ramblings From Beneath the Sheets

ramblingsfromthesheets.blogspot.com

Facebook.com/ramblingsfromthesheets

readingthesheets

Snarky Mom Reads…

Stephanie's Book Reports
May 7, 2015
Best of Both Worlds: Books & Naughtiness

Facebook.com/PureRomanceByJUDIEORNELAS

Love Bites and Silk

lovebitessilkties.blogspot.com

Reel Ladys Love Smut

Facebook.com/ReelLadysLoveSmut

The Hype PR

we stole your book boyfriend

westoleyourbookboyfriend.weebly.com
May 8, 2015
Book Happiness

Crazy Chaotic Book Babes

crazychaoticbookbabes.blogspot.com

Facebook.com/CrazyChaoticBookBabes

Crystal's Many Reviewers

Facebook.com/CrystalsManyReviewers

iScream Books

Facebook.com/rosarita.reader.iscreambooks

LipSmackin GoodBooks

lipsmackingoodbooks.blogspot.com

Facebook.com/LipSmackinGoodB00ks

Ms Me28

Facebook.com/MsMe28PersonalBlog

Naughty Moms' Story Time

Renee Entress's Blog

Facebook.com/reneeentresssblog

Sexy Bibliophiles

Facebook.com/thesexybibliophiles

Sexy Book Reviews

sexybookreviewsbyshellyandapril.com