Home of the Occupy Yourself book series
Stardom doesn't happen overnight. Hell, it doesn't even happen after a decade in the business, as the members of Occupy Yourself have found out. But, with the right talent and the right representation, they might still have a chance to make it big. As long as they can keep their lead singer sober, keep their drummer focused on the music, keep their guitarist out of trouble … well, you get the idea. Come and join us, stand side stage for a close-up view of the backstage happenings in a rock-and-roll band. It's guaranteed to be a show you won't ever forget
---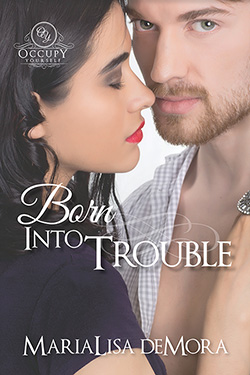 Book 1: Born Into Trouble (June 2016)

Benny Jones grew up fast, much faster than anyone in his family realized, in the backwoods sticks of Wyoming. Blessed with movie star good looks he didn't lack for female attention, and his first girlfriend set the tone for his romantic life. Older, beautiful, rich, and generous, she wanted to have a pretty toy to play with, and a prettier boy on her arm. His worth became defined by her needs, which left him feeling empty and hollow.
Ben found an escape from the sordidness of his world with music, and frequently lost himself in the sounds and rhythms he could create, trying to set aside the increasing feelings of worthlessness and betrayal. He knew eventually it would all catch up with him, and he was right. It did, the night he nearly died. Fortunately for Ben his older brother was there to save him. Again.
Now, he's attempting to navigate the world as a sober artist, digging in and holding onto his dreams by sheer determination alone when Lucia walks into his life. Sweet, beautiful, caring, and oh-so off limits Luce makes him think there are better things in store for him. There are problems, though. Not only doesn't she fit the mold of his previous ladies, but her father is one of his brother's best friends. No problem, right?
Read an excerpt from Born Into Trouble
Amazon | Barnes & Noble | iTunes
Goodreads | YouTube Playlist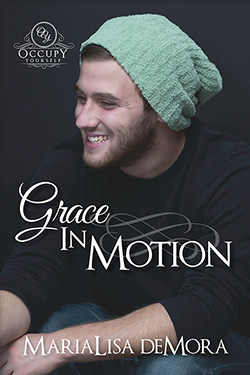 Book 2: Grace In Motion (2017)

Victor Montrose had been beating out rhythms since he was born, or even before, if you listened to his dad. He was the toddler who stood next to the TV speakers, hands on the pulsing fabric, head bobbing in time to the music. The child who sat for hours on the floor of the family kitchen, happily beating out his own version of a song on the bottoms of his grandmother's pots and pans. The boy who loved going to his older brother's football games, so he could stand at the fence and watch the drum line run through their routine on the field. Then, when he was older, he was the teen who performed at those games, who sat in the stands waiting for the band director to call upon him for a crowd-rousing, heartbeat-speeding solo intended to bring the fans to their feet, and drive the players forward to a win. Power. That was what drumming meant to him.
Vic has worked in the industry now for more than a decade, starting out as a teen by tagging along when his dad had studio gigs. Working his way onto the stage with one band after another, believing the promises that fell from the manager and band leader's lips. Never quite finding a place where he fit, he was drowning in the disillusionment from their lies.
When Ben Jones approached him about joining Occupy Yourself, he fell into it again, that place where everything sounded perfect and he could believe he had finally found his home. Then, Benny survived an overdose that threatened to tear the band apart, but his salvation stranded Vic in the middle of Indiana with their gear. Now, he has to figure out how to keep his musical family together, or decide to give up on the one thing that's been constant in his life. Music.

Book 3: What They Say (2017)

Chase Mason had been the outsider all his short life. Raised by a single mother who preferred not to remember she had a son at all, he didn't even meet his father until he was twelve. According to his dad, Davis Mason, that decision had been made by his mom, and as soon as he knew Chase was breathing, Mason had bent the fabric of the world to be with him. That felt good, too good to be trusted, because he knew just from living with his mother that everybody lied.
But Mason stayed on him, had patience with him, and stayed true to his promises. Every one of them, every promise. Whether to family, friends, or to the motorcycle club he ran. Since moving in with him, Chase had seen how much Mason loved the club, watched his dad turn himself inside out to do the right thing for the members and Chase found he wanted that for himself. Just a little bit of it would do. Even if he had to take Mason's regard divided by the two thousand members, keeping just one sliver for himself, it would be more than he'd ever had in his life.
Then, there was Benny, leader of the band Occupy Yourself, brother to one of Mason's best friends. Benny had scoped out what was going on with Chase and latched onto him. Wedging his way into Chase's life, and creating a bond of friendship that seemed unbreakable. Benny pushed him to learn the guitar, forced coffee down him when Chase made bad decisions, and harassed him into performing on stage. A place that seemed so terrifying he could hardly breathe when the lights came on, but where Chase found something else he wanted more than his next breath, when he found that making music was where his soul lived.
Could he trust Mason, trust the men around them, trust the friendships he was building? Or would everything crash down around him?
Copyright © 2016