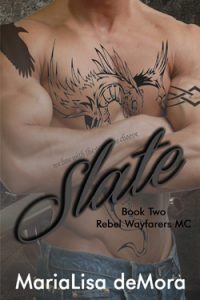 PURCHASE:
Slate
Rebel Wayfarers MC, Book Two
Andrew Jones grew up in a small town in Wyoming, and as a teen watched his family implode following his father's death. Driven by a need to provide for his little brother and remaining family, he begins looking for work, restlessly traveling from job to job on his Indian motorcycle, looking for something he cannot define.
Meeting Davis Mason, President of the Rebel Wayfarers MC in Chicago, is a central point in his life. Andy earns the name Slate, and over the following years gradually assumes the persona as first a prospect into Mason's MC, then full patch member. He has finally found the brotherhood he longed for, the sense of connection and belonging…a family and a home.
The only thing missing from Slate's life is a woman who can love him…all of him. He finds his match in a daughter of the MC, and his dreams become filled with silent smiles, unruly red hair, and her soft curves. She's wary and afraid, having been hurt in the past, but Slate works to gain her trust, slowly building something between them.
Just as their relationship begins to grow, ghosts from their previous lives threaten to ruin everything. His brother comes to town, bringing his band and his own brand of troubles. Slate watches helplessly as events conspire to put the woman he loves in grave danger.
Can he save his woman from the dangers brought to her doorstep by the past, or will she and their love be a casualty of conflict within the club.
Bingo's Poetry from Slate
Bingo is our resident poet for the Rebel Wayfarers, and for Slate he gave us a whimsical piece that exposed his true love:
The Indian
Cherry red
Virgin white
Fringe on the seat
Chrome so bright.
Unbelieved, the beauty
Unbelieved, how right,
Seen in the shadowy glare
Of the parking lot sodium light.
Riderless but steady
Patient waiting now an art,
Found desire ponder
Manmade love, mechanical heart.
Bags packed
Belted tight
Key to the slot
Soul is light.
Unrelieved, the distance
Unrelieved, past miles,
Partners' secret signals
Lessen love's absent wiles.
Boots shuffle up, then down
Hearts pump their beated measure,
Fast paced yearning
Caress of breeze's pleasure.