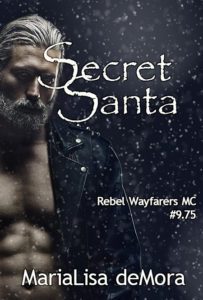 PURCHASE:
Secret Santa
Rebel Wayfarers MC, Book 9.75
A Rebel Wayfarers MC Novella
Meet Peter Teravest, also known as Truck, a nomad biker who finds himself sitting in the Florida panhandle alone one Christmas Eve. Truck has seen challenges in his life, and made his way out the other side with the help of his brothers in the Rebel Wayfarers MC. Ready to start a new chapter, he's purchased a home sight-unseen, and arrives a day ahead of schedule and in a bind.
Cue Vanna Reicht, his nearest neighbor who just happens to have friends in common with Truck. They share a meal, chatting and talking like long-lost friends. It's late. It's Christmas Eve. It's also comfortable, sweet, and oh-so complicated. In the series timeline, this story sits alongside Watcher, book #9.
Wanna know a secret? For reals? Okay. In this story, I'm Vanna. Big secret, right? My road name, CB radio handle, trail name, and nickname is Peepers. I hike, love to help people, hate to ask for help, and am a single mom to a special needs son with autism. So totally Vanna. Ta dah! Like you didn't already know it. Pfffttt.
Christmas Eve this past year was classically tough, with my minion having meltdowns over nothing and everything; some for reasons I knew, and many more I couldn't decipher. Around midnight, I was seated on my couch, reading, waiting for his tossings and turnings in the bed overhead to stop so I could put out the overfilled stocking, and deal with the cookies and milk. Within couple of weeks from writing this note, I'll be doing the same again this year. Yup, at 22-years-old, he still half believes in Santa, and I won't be the one to break that news to him. As long as he believes, Santa will come. Promise.
Last year, I spun up some old-school Christmas songs, thinking they would help pass the time. Those songs evoke sentimentality on a primal level, and within a matter of minutes I was driven to what seems to be my coping go-to these days: I grabbed the computer and opened a fresh, new document. And I wrote.
It felt good as I settled Vanna and Kitt. Helping them find their way through Kitt's growing adulthood, stamping the developmental changes into place that I know so well. By about 5 a.m., I had pretty much solidified Truck in my head, as well as on the page. He roared in and took control in places, and I gotta say, I love how he is with Vanna and Kitt. Truck enjoys a kind of intuitive empathy I wish everyone had.
I might be Vanna, but my minion isn't Kitt. Not quite. As my son has aged into a deeper emotional and cognitive maturity, he has developed the ability to articulate how it felt when things were more difficult. He can talk about the workings in his brain, feelings he experienced when his body reacted to certain stimuli, how he self-soothed, and the satisfaction felt as he developed independent coping mechanisms. There are bits of him in this story, of course, but Kitt wound up more profoundly impacted on the Autism spectrum which means a lot of Kitt's inner dialogue might be flavored by my son, but is straight from the source of my imagination.
I cannot speak for every parent or caregiver of a special needs child, but I know I long for the day when my son can be more independent. Not for me, but for him. He definitely recognizes how his age peers have moved along, passed him on the road to adulthood, and impatiently waits to join their journey. Emphatically and loudly, he wants more. And he'll get there, I have faith.
One of the toughest things about being a parent, regardless of the abilities of the child, is giving them the opportunity to branch out and flourish. Because with each opportunity to succeed, comes the same chance to fail. I keep reminding myself of a poem by the young Australian writer, Erin Hanson, What If I Fall? It's a short bit of poetry, but is poignant in a way that resonates with me. Five lines long, but rich in meaning, it ends in a voice filled with hope, "Oh but my darling, What if you fly?"
My Christmas wish? Here's hoping all our fledglings soar.
Woofully yours,
~ML
The afternoon knows what the morning never suspected. ~ Robert Frost

DEDICATION
For those of us who long for love and companionship in our afternoons. Sometimes we simply need a reminder to keep the faith. That love is not something you discover. It cannot be acquired or invented. Love will come looking for you when you are ready. Be happy, and be hopeful. I see good things.