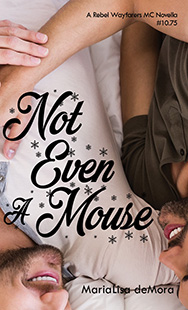 PURCHASE:
Not Even A Mouse
Rebel Wayfarers MC, Book 10.75
A Rebel Wayfarers MC Novella
More than a decade ago Myron vowed he would live up to the trust shown him by one of the best men he'd ever met: Davis Mason. In a desperate situation, Mason stood tall and reached out a hand, pulling Myron out of trouble. For Myron, Mason and his Rebel Wayfarers offered not only a way out but—most importantly—a chance at a life filled with honor.
Through the years, Myron has diligently held up his end of the bargain. Working tirelessly to ensure things in the ever-growing club run smoothly, his efficient efforts pave the way for Mason to make bold changes, continuing to build a worthy legacy.
Time and again Myron has watched men plucked from the world of citizens be molded into what the club required. He'd often been an observer when Mason adjusted the club's vision to accommodate things the men didn't even know they needed, giving them the best possible life filled with love and brotherhood. He just never expected that would happen to him.
That was until he met Andrus Kasmouski, and Myron found himself thrown into a game of cat and mouse with his own desires. During this trial by fire, can he dig deep and find the courage to take destiny into his own hands?