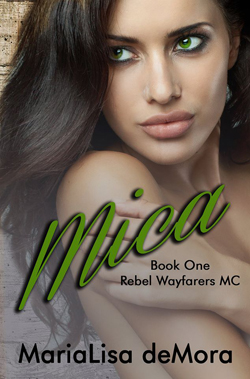 PURCHASE:
Mica
Rebel Wayfarers MC, Book One
When Mica Scott moved into a quiet Chicago suburb, she wasn't ready for what she found. Her new neighbor is bossy, kinda scary, and defines hotness. Sure, he's a hunky alpha male, the kind most women secretly long for, but the man oozes danger. And Mica isn't most women. After a chance encounter brings a new man to her door, Mica struggles to find a path between what she wants, and what she needs.
Mica Scott was raised on a ranch in Northeast Texas. Life was hard, but not impossible…until she met her own personal nightmare one night at a rodeo. She escaped his abuse by putting things behind her, isolating herself by moving to Chicago for college and work.
Davis Mason is the hard-living president of the Rebel Wayfarers, a motorcycle club operating out of Chicago. With just one encounter, he becomes determined to keep Mica safe…whether she wants him to or not. He will use every asset in his control to manage Mica, while holding himself aloof from taking the one thing he really wants…her.
Daniel Rupert is a successful businessman. He owns a trucking company and a hockey team, for which he is the star forward. Meeting Mica and Mason when he helped foil an attempt on her life, he began working jointly with Mason to keep her safe. But unlike Mason, Daniel is not satisfied with a platonic relationship. He insinuates himself into Mica's life, and he only wants…everything.
Events escalate and Mica's very life hangs in the balance as old threats resurface and the men in her life scramble to keep her alive.
Spoilers: Questions about Mica and Her Men
Not long ago I asked folks to send me questions about the books and characters. Nearly all of the questions would have resulted in terrible spoilers for anyone not having read the books, and I responded to most of those privately. I did, however, keep a small cache of questions which I felt needed answers, because they are the most frequently asked. I'll clearly identify them as SPOILERS, and allow people to read at their own risk.
Why did Mason and Mica hookup on their way home from Texas? She was already with Daniel, why would she cheat on him like that?
Looking at the character dynamics in the book Mica, both Mason and Daniel had difficulty within their relationships with her.
Mason had wanted and been obsessed with her since first laying eyes on Mica. That developed into a deep love and affection as he learned her story and came to know her. He worked hard to break down the walls she hid behind, getting to know the private woman well. In many ways he supported her, both emotionally with his friendship and more tangibly behind the scenes as he organized security for her, or schemed to find her business additional customers to ensure she had every reason to stay. He needed her happy and satisfied, and her wellbeing mattered more to him than almost anything.
Daniel was immediately intrigued with Mica, but he's much more wary than Mason. He grew to love her over time, transitioning from wanting to make sure she was safe to wanting her in his life always. He too supported Mica, and while his connection might have seemed more physical and overtly emotional than Mason's, the attraction they both felt for her was strong.
On a night when she was emotionally vulnerable, she and Mason shared an intensely passionate sexual experience. He was there for her, building her back up, making her whole. Yes, it was after she'd met Daniel, but it happened before they became close. After they became a couple, we know her behavior was above reproach. As the story advances, in the face of her ex-boyfriend's machinations she is then torn on how to hold onto any of her friendships and struggling to keep her friends safe.
Even after she ended things with him, Daniel traveled to Texas to see Mica because he couldn't stay away. Due to that unquestionable pull, he was present when the ex-boyfriend made his final play. Daniel had a part in saving her, again, and there was potential for them to patch it up right then, but his fears won out. This time he was the one who walked away, rejecting her and leaving Mica standing alone. Later, back in Chicago, Mason approached him before traveling back down to Texas, intending to bring her home if he could. During that conversation, Daniel indicated to him that the relationship was over.
Now, as readers, we know differently, but to both Mica and Mason it appeared that Daniel had called it quits, hung up his skates. With the background information available to them (they can't read his mind like we can), was this encounter really 'cheating' in even the most relaxed sense of the word? Maybe, because Mica did still love Daniel. Also, in Jase, we'll find out that Mason specifically asked Slate to invite Daniel to Mica's party. But at this point in time, the two characters in question don't have any reason to believe his feelings have changed or that he is reconsidering their breakup. Maybe Mason invited him because he wanted to hold onto his friendship with Daniel. Hmmmm.
Would any of us try and deny Mason and Mica find comfort in each other on many levels throughout their relationship, even outside of their sexuality? On one hand, they are not a good romantic fit, what with her history of abuse and dislike of violence framed against his life as the national president of a motorcycle club encompassing all that the title implies. On the other hand, can we reject the chemistry they've had for so long? They are human, and fallible…on this trip both so vulnerable and wanting a connection. She's not looking to pull Mason into a relationship that ultimately cannot work, she'd never do that to him, never risk their friendship. Mica's words indicate to Mason that she recognizes his need to keep her separate from the club life and the dangers it raises when she says:
"If you accept my love, if you say it's enough, you are lying—to yourself and me. You need someone who will be there for you always. You deserve so much more."

She leaned down and kissed the phrase tattooed on his skin—We accept the love we believe we deserve. Folding her legs, she sank to her knees in front of him, still stroking and fondling him. "But we can have sometimes, when there is need. Let me be your sometimes…until you find your always."
Their encounter is never phrased as a mistake, but in retrospect, I'm sure both of them have some regrets. After all, when they get home Daniel is eagerly waiting, even as he's filled with an overwhelming fear he may have already thrown away the one chance he had to rebuild his and Mica's lives together. Mason is clearly reluctant to release his newfound hold on her, perhaps feeling unable to step aside for the other man once again. After all, he's had another taste of her, and he fucking loves this woman, "She's a fucking treasure." In Bear, Mica gives us some insight on the depth of her feelings for Mason, during an emotional confrontation:
"That man is something special to me. He's special to a lot of people, but I claim first place in the line. I've known him for a lot of years; there is no better man. He and my husband are the two most important men in my life. I love him." Mica was staring into the woman's face, and the fierce look on her features took Mason's breath away. "And I would kill anyone who hurt him. He deserves to find happiness."
Fortunately for Daniel, fate conspires to remind Mason of why he had distanced himself from Mica in the first place, because club business comes a-calling. So, Mason not-so-graciously steps aside, perhaps exposing more than he intended to Mica during their kitchen conversation and giving her space to make a choice that will set the course for their three lives going forward.
So, was it cheating? I don't think so, I certainly didn't write it as an illicit affair, but as a coming together in need. No harm, no foul. Does Mason find his always? That's another question frequently asked, but will not be answered here. We've a ways to go before we get to his story. Let a woman keep some of her mysteries, will ya?