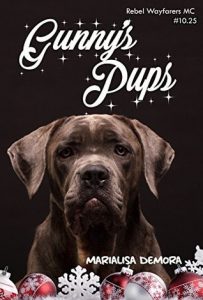 PURCHASE:
Gunny's Pups
Rebel Wayfarers MC, Book 10.25
A Rebel Wayfarers MC Novella
Gunny and Sharon have been through a lot together, coming out stronger in the end. Fate throws them a bone, so to speak, in a mastiff by the name of Tank.
Adopting a dog means taking on all that animal's troubles, large or small. When the dog in question stands nearly three-feet at the shoulder and weighs more than 150 pounds? All the problems are big!
Lane Robinson has always had a soft spot for dogs. All breeds and sizes; if it's a furbaby, he's a big pushover. Gunny loves his pups. Persuaded into helping a Rebel member sort out a difficult situation, Gunny didn't expect to find a new family member in the form of an enormous mastiff. With a child on the way about to add more chaos to his life, he thought the big guy would be a temporary house guest. Take the monster-sized dog home, foster him for a little while, then place the critter with a loving family. Piece of cake.
But, when he came through for Sharon in an important way, helping her through a difficult time, Gunny decided the dog had found a forever home. Remember those big problems? They're about to get even bigger! This novella sits alongside Rebel Wayfarers MC book #10, Bones.