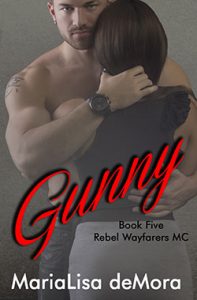 PURCHASE:
Gunny
Rebel Wayfarers MC, Book Five
Shattered following a devastating betrayal that results in the death of his friends, Lane Robinson finds himself in Fort Wayne, Indiana, a world away from his previous life as a Marine. Robinson is trying to forget the past, but healing from the deadly deceit that cut blood deep is hard, and memories of that treachery taint every interaction in his life. He misses the comradery and bond he had with his brothers in arms, and now can't help but view everyone around him with mistrust and suspicion.
Robinson meets a member of the Rebel Wayfarers motorcycle club, and with an introduction into the biker's circle of friends, he finds that elusive sense of home that has been missing from his life for too long. Initiated into the club and now called Gunny, Robinson buries himself in his new life as a Rebel member.
Secure within his newfound family, Gunny fills his days with solitary work and finds he possesses a gift for motorcycle restoration, forming a career out of this exacting passion. Trying to leave behind the man he was before the club, unfortunately his feelings of cynicism aren't so easy to set aside. Even within the club, surrounded by members he readily calls brother, he grants his trust to only a few. One of those is Davis Mason, national president, and a man he is proud to call friend.
Into this meticulously constructed life dances Sharon Elkins, the one woman who seems to possess the ability to tear down the walls he has spent so long building. She is the first person who sees beyond his surface façade, the first he's let get close in so long…can he trust the emotions she stirs in his soul?
As she becomes an ever more important part of his world, darkness from their former lives collides in a dangerous cascade of conspiracy and schemes. Can he protect the woman he has come to love, and will they be able to fight their way clear of the chaos that threatens to entrap them?
"These towering walls you have built to protect your heart do nothing more than imprison your spirit." – Dean Jackson
**Gunny introduces readers to the tough issue of Mental Health. To learn more about this important issue, how to find help, or how to get involved with helping others please check out my Empower Yourself page.
In many of the books I write, the story can touch on topics that are important and relevant to today's society, and echo challenges we might be encountering within our own lives. Visit my
Empower Yourself
page for links to the information I researched for the story, so folks invested in the subject matter can cultivate greater knowledge. Not intended as a "be all, end all" source of information, these curated links should be looked at as more of a jumping-off point. Go forth and conquer!