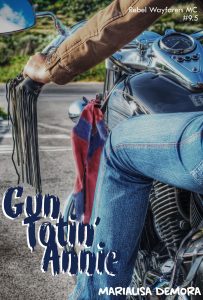 PURCHASE:
Gun Totin' Annie
Rebel Wayfarers MC, Book 9.5
A Rebel Wayfarers MC Short Story
Annie lived for her sisters in the club, but she was closest to Coates. They had founded the riding club together, and the women looked after each other. Always. In the search for even greater stability for their sisters, things had gone sideways and Annie had to scramble to find her center when Coates was brutally murdered.
Enter Domino, one of the few men who knew enough about her recent errand to warrant suspicion in her sister's death, but there's something about him. Something different. So different, that even in this moment of grief, Annie knows it is rare and worth exploring.