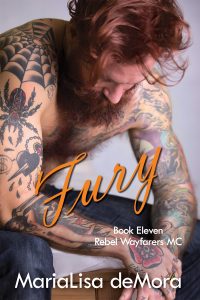 PURCHASE:
Fury
Rebel Wayfarers MC, Book Eleven
As soon as he could, Gabe Ledbetter fled his family's home in the mountains of Kentucky. Those hills and valleys were undeniably beautiful, but they masked a painful legacy of loss and betrayal. Gabe counted himself fortunate to have gotten out, his scream-filled nightmares a reminder that not everyone had been as lucky.
Gabe, now called Fury, has built a family for himself with the men he calls brothers. Over time, he worked his way from club to club, managing to climb the ladder of responsibility until in his small world he was the top dog. Big man, but one with an empty bed.
Bethany Mason-Taylor has lived her whole life in survival mode. From her first memories of a traumatic childhood, it always felt as if she were skating a mere stone's throw ahead of disaster. Everything finally seems to be on track for success, and now that she's put her most embarrassing fiasco behind her, managing the come-back tour for a band signed by her brother's record label should be a breeze.
That is until one gloriously handsome redhead slipped into her hotel room and derailed all of Bethy's carefully laid plans. She's the forbidden fruit, sister of his MC president. He's her ultimate weakness. Oh yeah, this is gonna be fun.