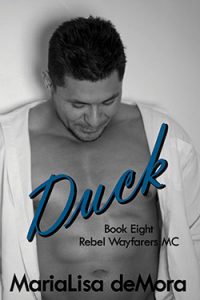 PURCHASE:
Duck
Rebel Wayfarers MC, Book Eight
Reuben Nelms has worked hard all his life. First to escape the West Texas town where he grew up, then to negate the legacy of his family. One of his worst regrets was failing to protect a young woman from evil dealt by his blood brother. For years afterwards, he watched and protected her from the shadows, most comfortable in that faceless role.
Now known by his road name, Duck feels he's finally found redemption in watching that woman blossom and grow, sheltered by her association with his brothers by choice, the Rebel Wayfarers motorcycle club. Things were settled, predictable, until a desperate call from home sets him scrambling and he is back front and center, home again in West Texas, finding himself confronted daily with reminders of his horrific family heritage.
Treading alongside the remembered fear and regret surrounding him walks a temptation, Brenda Calloway, the hometown woman he left behind. The efficient business manager of the cattle company he inherited from his father, his childhood friend is now a widow. More beautiful than ever, she's a single parent with a secret, unaware of the power she still wields over Reuben's heart.
Will their second chance love be able to take root and grow in the dry deserts of West Texas? Can Duck put aside the man he's become, sloughing off the brotherhood and leaving that behind to become Reuben again, or will he be able to pick up the pieces of his teenage love and still continue his life in Chicago as a member of the Rebel Wayfarers MC?
"Everyone has three lives: a public life, a private life, and a secret life." – Gabriel Garcia Marquez