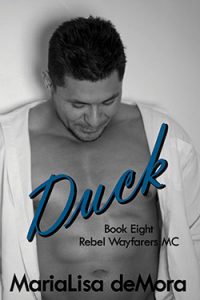 PURCHASE:
Duck
Reuben Nelms has worked hard all his life. First to escape the West Texas town where he grew up, then to negate the legacy of his family. One of his worst regrets was failing to protect a young woman from evil dealt by his blood brother. For years afterwards, he watched and protected her from the shadows, most comfortable in that faceless role.
Now known by his road name, Duck feels he's finally found redemption in watching that woman blossom and grow, sheltered by her association with his brothers by choice, the Rebel Wayfarers motorcycle club. Things were settled, predictable, until a desperate call from home sets him scrambling and he is back front and center, home again in West Texas, finding himself confronted daily with reminders of his horrific family heritage.
Treading alongside the remembered fear and regret surrounding him walks a temptation, Brenda Calloway, the hometown woman he left behind. The efficient business manager of the cattle company he inherited from his father, his childhood friend is now a widow. More beautiful than ever, she's a single parent with a secret, unaware of the power she still wields over Reuben's heart.
Will their second chance love be able to take root and grow in the dry deserts of West Texas? Can Duck put aside the man he's become, sloughing off the brotherhood and leaving that behind to become Reuben again, or will he be able to pick up the pieces of his teenage love and still continue his life in Chicago as a member of the Rebel Wayfarers MC?
"Everyone has three lives: a public life, a private life, and a secret life." – Gabriel Garcia Marquez
Keep her safe
Chicago, Illinois
"No, Prez," Reuben said in response to the clipped question. "She's not my woman. She's…" He shook his head. "Jesus. My brother hurt her. It's been years ago now, but I just gotta…"
Frustrated, he trailed off, looking down at the bar in front of Davis Mason, national president of the Rebel Wayfarers, a motorcycle club he had recently patched into as a prospect. He was trying and failing to explain why he needed to head out of town tomorrow, which would mean he had to bail on a club party this weekend. As a prospect, that kind of thing just wasn't done. A prospect's life was the club, and he was expected to be in attendance at all events.
Lifting his head, he looked Mason in the eye, trying to convey the depth of his commitment to this woman. "My brother hurt her. I could have stopped it, should have, but I didn't. I ran like a coward, leaving her to pull her own fat out of the fire. Friday night, tomorrow…he will be heading into her town, down where she's going to college. After everything he put her through, she's just getting her life back on track, barely starting to make her own way again. He's a hell of a threat from a distance, now he's rolling into town and she doesn't have a clue. I can't let her down again.
Sucking in a deep breath, Reuben continued, "I have…I need to make sure he doesn't catch sight that she's within reach, Mason. That means I need to get down there and see the lay of the land once the trucks show up, figure out how to keep her…safe." His words were rushed, tumbling over themselves as he said, "Means I can't do the gig here, man. I'm sorry, but this is—"
With a nod and a chin lift, Mason wordlessly interrupted, giving him permission. Reuben sucked in a harsh breath of relief, knowing he would have been going anyway, but this way, Mason made it easy for him. Easy for him to keep his solemn—if unspoken—promise to make up for his cowardice. For walking away, for closing his ears to the tortured screams coming from the rig. For letting his brother touch something that was sassy, sweet, cute, and loved, breaking that beauty in ways Reuben knew would never be healed.
He couldn't undo the past, no matter how much he wanted…needed, even prayed for a chance to walk a different path. He couldn't change history, but he could hold tightly to the future. And he would. He had promised himself he would. For the rest of her life, Mica Scott would be safe from Ray. Reuben would make sure of it. She wouldn't see Ray, didn't have to think about him, and—please, God, someday—she wouldn't have to remember time spent with him and what he'd done to her. No skeletons in her closets to bring her grief. Not as long as Reuben could keep her safe.
Copyright © 2016 – MariaLisa deMora