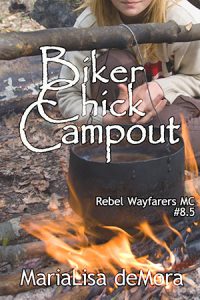 PURCHASE:
Biker Chick Campout
Rebel Wayfarers MC, Book 8.5
A Rebel Wayfarers MC Novella
The segregated circles in which motorcycle club princesses and prospective members travel seldom collide. When they do, if romance is involved, it can be an improbable match at best.
This story sits alongside 'Duck' (book #8) in the Rebel Wayfarers MC book series. Carmela Estavez is tired. Tired of being the princess, she's had enough of never living up to family expectations, and she is seriously fed up with people watching her every move. Riding her motorcycle cross-country to meet up with friends, she's ditched her daddy-mandated escort and is ready to spread her wings and fly. She just hopes she doesn't crash and burn in the process.
Justin Youngblood has wanted to be a member of the Rebel Wayfarers MC for as long as he can remember. Hurley, as he's not-so-fondly known, is powering through his prospect period, but not always on the right side of his brothers in the club. This means that at nearly a year into his tryout, he's still getting slapped with the punishment details. This weekend is a perfect example, chaperoning a hen's party in the middle of nowhere that won't get him any points with anyone.
Then what looked to be a boring weekend turned into the ride of his life when in rolled a honey-skinned beauty. He's supposed to be on guard duty, not on the prowl, but there's just something about this one. She's got trouble written all over her, and if there's something he likes, it's getting into trouble.