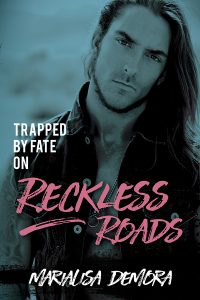 EBOOK & PRINT: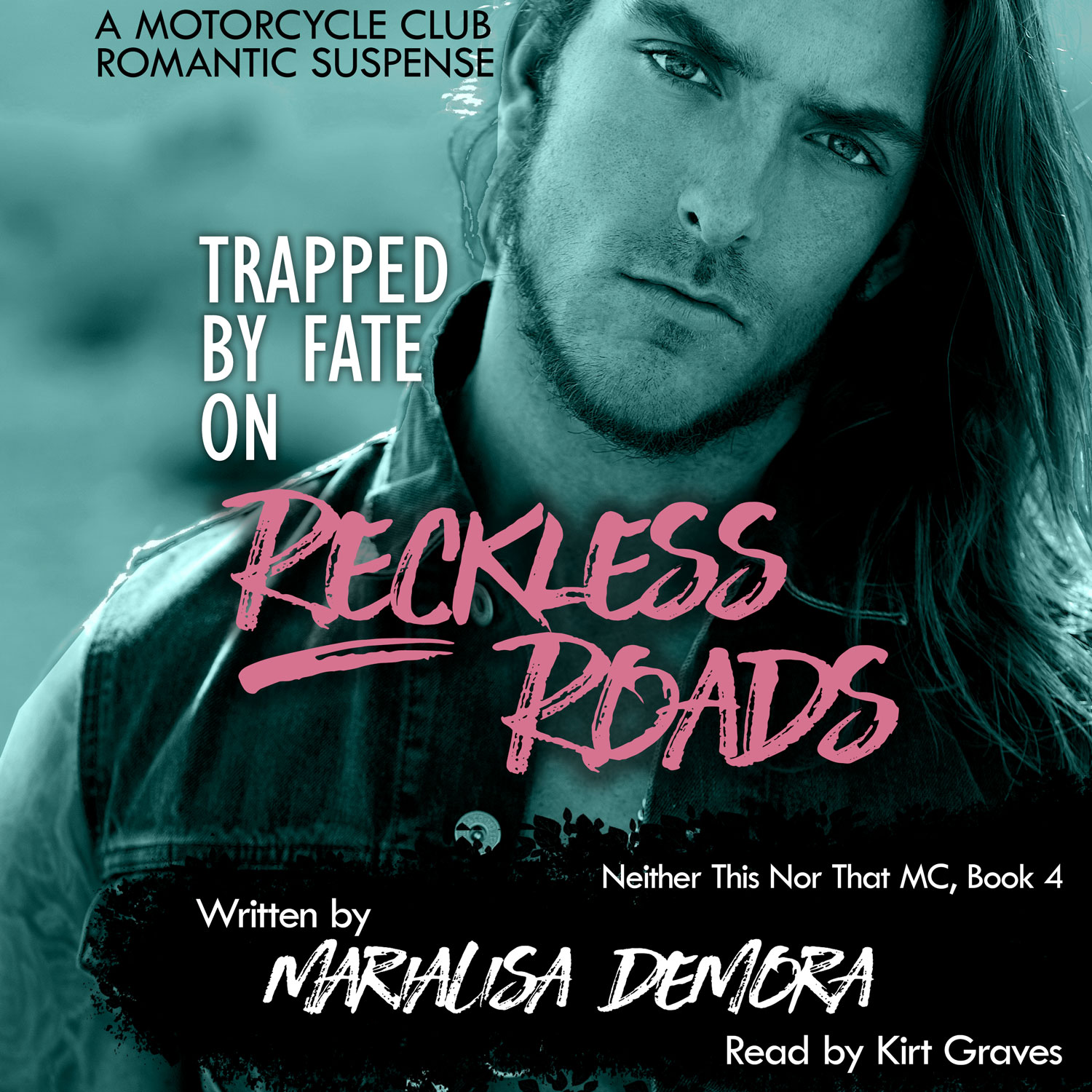 AUDIO BOOK:
Now available in audio! Scroll down for links.
Trapped by Fate on Reckless Roads
Neither This Nor That MC, Book Four
"Got your back," is more than a saying in Retro's world. Standing united as a club is a given, and loyalty is held as a standard of brotherhood. Forgiveness for transgressions, however, does not come easily, or ever in some cases. Retro's only demand for his brothers is honor and integrity, and his belief is that everything else will fall into place behind those qualities. He is not wrong.
In the rough realm of bikers, there are no shortcuts to win a place among the old guard. It's a world where respect can only be earned, trust is painfully gained, and loyalty will be fiercely returned.
Jerry Rogers lived his life bound to those firm tenets which anchored his brotherhood. MHL&R was more than a patch on a leather cut, it ran thick as blood through Retro's veins as he worked to better things for his club, and family.
Locked for years in a loveless marriage, Retro still found a sense of pleasure and peace knowing he'd at least always done his best to buffer their children from his single mistake.
Confronted by evidence that what happened in the past wouldn't remain quietly buried any longer, Retro embarks on what might become his most important journey down memory lane. One that can only end in blood…and death.
In this story, Penny and Twisted play host to Retro's kids for a few weeks in the summer. They had more than one cookout, but here are Jimmy and Saya's favorites from those evenings that happened off-screen.
Penny's Cajun Barbeque Shrimp
1 cup unsalted butter
4-5 cloves garlic, chipped
1 medium tomato, thin skinned works best
1 lemon, juiced and quartered
2 tablespoons Worcestershire sauce
1 bay leaf
3 tablespoons Creole spices *
1 1/2 pounds shrimp, peeled and deveined
1 baguette, sliced
This recipe is enough for a family of four. Of course, if you're making enough to feed the clubhouse, you gonna have to double it, but be careful to make batches about that size to ensure the butter is done right.
In a medium cast-iron pan over low heat, melt butter with the garlic, lemon juice, tomato, Cajun seasonings, Worcestershire sauce, and bay leaf. Keep at a slow simmer until the tomato cooks down to just pulp and juice. Remove skins as desired. Remove the bay leaf before adding shrimp.
Increase heat and immediately add shrimp, cooking a couple minutes each side. Stir frequently.
Add lemon wedges last minute or two, stir well.
Serve over sliced bread, or other base preferred like rice or fried potatoes.
Twisted's Slow Cooker Red Beans and Sausage
1 pound dried red beans
1 pound andouille sausage, sliced and cooked
1 tablespoon oil
1 large onion, diced
1 green pepper, seeded and diced
1 cup celery, diced
3 tablespoons Creole spices*
6 cups chicken broth
6 cups cooked rice
Soak beans, rinsing and changing water a couple of times.
Brown the sausage over medium heat with the oil. Add onion, green pepper, and celery. Stir frequently, cook until the onion is translucent.
Combine beans, sausage mix, and seasonings in a large slow cooker. Add broth and stir. Cook covered, 8-10 hours on low, or until beans are tender.
For a thicker dish, mash up a couple cups of the cooked mix and return to the slow cooker and stir.
Serve over rice.
Nelda's Bread Pudding with Whiskey Sauce
Pudding
6 cups cubed bread pieces
1 quart full-fat milk
3 large eggs
2 cups white sugar
2 tablespoons vanilla
3 tablespoons melted butter
Sauce
1 cup sugar
1/2 cup butter
1 egg, beaten
2 oz whiskey to taste
Soak bread in milk until soggy. 5 minutes or so is usually ample.
Add eggs, sugar, vanilla, and stir well.
Drizzle butter in baking dish, spread evenly.
Add bread and bake about 45 minutes, until puffed and firm to the touch.
While that's cooking, start your sauce.
Combine sugar and butter in top of a double boiler and bring to a slow, rolling boil until sugar is completely dissolved.
Drop tablespoon of sugar mix into beaten egg and whisk, then add egg mix to the pan and cook, stirring constantly until thick.
Remove from heat and allow to cool slightly.
Stir in whiskey to taste.
Remove pudding from oven and cool, then spoon into serving dishes.
Top pudding with sauce and serve immediately.
Creole Spices
Want to make your own creole spices? Easy 'nuff:
Combine a quarter teaspoon each of onion powder and garlic powder. Add a dash or more of oregano, basil, thyme, black pepper, white pepper, cayenne pepper, and paprika. Salt to taste.
Enjoy!