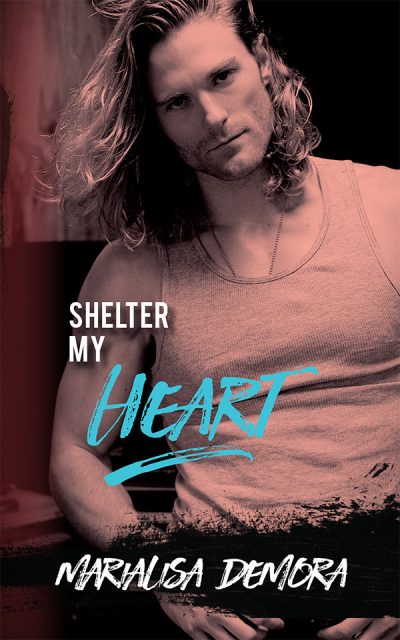 EBOOK & PRINT:
AUDIO BOOK:
Now available in audio! Scroll down for links.
Shelter My Heart
Neither This Nor That MC, Book Three
Po'Boy, Wrench, and Crissy show how they're meant to be in this saucy and sassy story about love, and change, and doing a whole lot more than just getting by.
Now that Po'Boy has found his happy with the two people he loves more than life itself, he just has to figure out how to keep it. Their triad relationship walks a finely balanced line between the demands of their outside lives and in bed, and Po'Boy is determined to keep things good and sweet for his lovers.
Change is unavoidable, no matter how much a body might wish otherwise, and outside of the relationship, Po'Boy's role seems to shift with the wind, leaving him scrambling to keep his equilibrium both within the club he owes fealty to and with his ride-or-die, Twisted.
Nothing in life is easy, but with Wrench and Crissy around, he knows the love they share is worth fighting for, even if the worst of the demons he has to fight are buried deep inside himself. They'll give him shelter for his heart.
RECIPES FROM THE STORY
Crissy's Chicken and Andouille Gumbo
Ingredients
1/2 cup each unsalted butter and all-purpose flour
1 tablespoon canola oil
1/2 cup each chopped bell pepper and onion
1/4 cup each chopped celery and carrot
2 cups each chopped andouille sausage, and shredded roast chicken
3 cups chicken broth
1 tablespoon Creole spices *
2 teaspoons filé powder
2 cups raw long grain white rice
Preparation
Takes about an hour and 15 minutes to prepare, once you have everything chopped and ready.
In a small cast-iron pan over medium heat, melt butter. Add flour, and whisk vigorously until combined. Cook, stirring frequently, until a brown roux forms, about 15 minutes. Remove from heat, and set aside.
Cook rice over low heat, cover, and set aside.
In a large Dutch oven over medium-high heat, add canola oil. Add bell pepper, onion, celery, and carrot, and cook stirring frequently, until tender, about 5 minutes. Add sausage, and cook until lightly browned. Add roux, and stir to combine. Slowly whisk in broth, and cook, stirring occasionally, until mixture begins to boil. Stir in chicken, Cajun seasoning, and filé, and serve immediately over fork-fluffed rice.
Ty's Cornbread
Ingredients
1 cup cornmeal
1 teaspoon each salt and white sugar
1 tablespoon shortening
3/4 cup boiling water
Enough oil or bacon fat to cook
Preparation
Quick dish, you can start this 15 minutes before serving.
In a medium bowl, combine cornmeal, salt, and sugar. Add boiling water and shortening; stir until shortening melts.
Pour oil or bacon fat to a depth of 1/2 inch in a large skillet and heat until popping.
Shape cornmeal mixture into flattened balls using a heaping tablespoon as a measuring guide, drop into hot oil. Cook on each side until done, with crispy brown edges. Serve hot with butter.
Lewis' Fried Boudin Balls
Ingredients
2 or 3 links Cajun-style boudin sausage, about 12 ounces
1/2 sweet onion diced
1/2 cup each all-purpose flour and seasoned fine dry bread crumbs
2 large eggs (well beaten)
Enough oil for deep-frying
Creole spices to taste.
Heat the oil in a deep fryer to about 360F to 370F
Preparation
About 45 minutes from start to finish.
Remove boudin from casings and crumble. Shape the boudin into 1 1/2-inch balls. The heat from your hands will help hold them together. If they stick, moisten your hands slightly.
Fill one small bowl with flour, another with eggs, and a third with breadcrumbs (mixed with creole spices, if desired).
Coat each ball with flour, then coat with the beaten egg, then gently roll in the bread crumbs to cover thoroughly. You may need to rinse your hands several times in hot water while rolling the balls. (I just like saying balls a lot.)
Fry the balls, two at a time, in the hot oil until golden brown.
Serve with a good remoulade sauce or with Creole-style mustard.
Lewis' Potato Salad
Ingredients
2 pounds russet potatoes peeled and cubed (4-5 decent sized taters should do it)
1 1/2 teaspoons salt
5 large eggs hard-boiled, peeled and smashed lightly with a fork
1/2 cup celery diced
1 small Vidalia onion minced
1/2 cup dill pickle relish, plus 2 Tablespoons juice
2 1/2 tablespoons prepared yellow mustard (or creole style for extra pizzazz)
1/2 cup mayonnaise
Salt and pepper to taste
Preparation
Takes about 45 minutes, but leave time for the salad to cool.
Boil potatoes in lightly salted water until falling apart, about 10 minutes. Drain, and return to hot pan to dry.
Combine potatoes, eggs, celery, onion, pickle relish and juice in large mixing bowl.
Add half mustard and mayonnaise and stir thoroughly.
Add remaining mixture for consistency, careful not to make the potato salad too watery.
Salt and pepper to taste.
Refrigerate until ready to serve. Is actually better on day two after the flavors mix all together.
Can garnish with whatever, paprika if you have it, chopped green onions, jalapenos if you've made it spicy.
Creole Spices
Want to make your own creole spices? Easy 'nuff:
Combine a quarter teaspoon each of onion powder and garlic powder. Add a dash or more of oregano, basil, thyme, black pepper, white pepper, cayenne pepper, and paprika. Salt to taste.