Hoss, Rebel Wayfarers MC (book #7), paperback, signed
0000009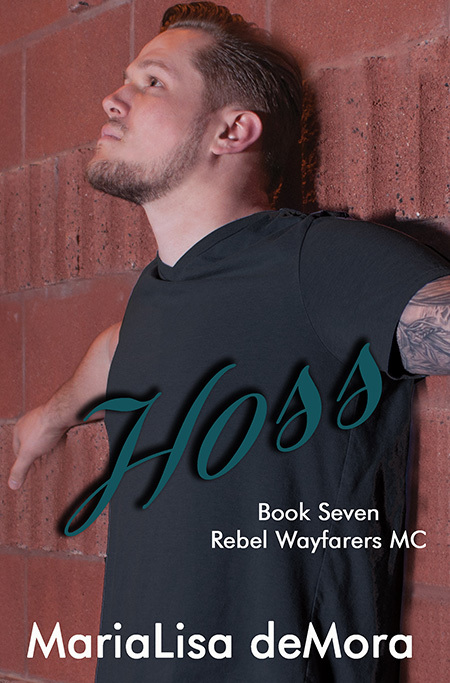 Order a signed paperback copy of Hoss, book #7 in the Rebel Wayfarers MC book series.

Hoss has been looking for something he couldn't define. An unnamed need, deep inside him. Meeting Hope Collins for the first time gave him clarity, but he, and the Rebel Wayfarers MC are in the middle of club business. Dangerous business. Business a single mother had no place in. So he set about attempting to keep her safe, until he could claim her.

Full description:
Isaiah Rogers grew up on his family farm in Alabama. Loved by his family, he's a country boy at heart, a southern gentleman by raising.
The path to northern Indiana was twisted and long, but this sensitive man found a comfortable niche as a member of the Rebel Wayfarers, vice-president of their affluent and growing Fort Wayne chapter. Hoss, as he's now known, retains pieces of the boy from rural Alabama, but life in the club has hardened him, driving home the message time and again that love isn't safe.
Hope Collins also grew up in Alabama, but their histories could not be more different.
An ill-timed youthful rebellion came with long-lasting consequences. It's then she finds she's not an only child after all, her father holding up her half-sister's failures as a painful lesson before closing the door of her childhood home in her face.
Hoss and Hope's paths collide when she travels to Fort Wayne, to meet the sister she had gone most of her life without knowing about. For Hoss, from the first moment he laid eyes on her, the truth and beauty inside her called to him. Now he will have to find a way to win the woman's trust and love, while navigating the dangerous currents swirling around the club.
"The truth is, everyone is going to hurt you. You just got to find the ones worth suffering for." ~ Bob Marley
Series Name:Rebel Wayfarers MC
Book Order in Series:7
Pages:355
Size:6x9